October 2017
Texas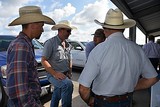 Texas AgrAbility, in partnership with Texas A&M AgriLife Extension, USDA, Farm Bureau, Texas Department of Agriculture, and multiple disaster assistance organizations, hosted a disaster assistance workshop in Raywood, Texas. Over 90 farmers and ranchers attended. Multiple disaster assistance programs were featured, educating farmers and ranchers on how to use the programs, the deadlines, and requirements.
---
The Battleground to Breaking Ground Entrepreneurial Training Project applications have been accepted for the fall 2017 cohort, which will gather for a basic training weekend on October 14-15 at 7D Ranch in Navasota, Texas. The weekend will allow participants to prepare for the program coursework, do team building activities, and network with one another.
---
Prairie View A&M Battleground to Breaking Ground Workshop and farm tour will be held on October 20 and 21 in Prairie View. The October 20th farm tour will showcase VegOut! Farms in Pattison, Texas. VegOut! Farms grows fresh produce hydroponically and has established contract with HEB, one of the largest grocery stores in Texas. They will showcase their operation and give a tour of their facilities and share how they produce their vegetables. The next day, the Battleground to Breaking Ground Ag Workshop will take place at Prairie View A&M University. Attendees will learn about Texas AgrAbility, the Battleground to Breaking Ground Project, rural business ideas, business planning basics, funding opportunities, and much more!
Submitted by Makenzie McLaurin
---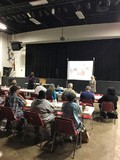 Forty-two landowners and persons interested in wealth creation through land ownership were onsite to attend the Land Loss Prevention Workshop held recently at the Crockett Civic Center in Crockett, Texas. The 1 1/2-day workshop, hosted by the Cooperative Extension Program (CEP)-AgNR, and supported by the National Institute of Food and Agriculture, U.S. Department of Agriculture through the Renewable Resource Extension Act Grant, targeted rural communities with histories of land loss. The goal of the workshop was to provide tools to help stabilize land ownership across generations and to enhance family wealth by increasing income and land asset value through sustainable forestry.

The workshop began with attendees participating in a SWOT analysis to assess the strengths, weaknesses, opportunities, and threats associated with their own operations. Lead by Dr. Nelson Daniels, CEP-AgNR ag specialist; Dr. Joshua Idassi, natural resources specialist, North Carolina A&T State University; and Mr. Sam Cook, executive director, Forest Asset, North Carolina State University and VP Natural Resources Foundation Board, the exercise was meant to help the attendees consider what works well and what adjustments may be needed.
A series of presentations followed, beginning with Marca Theresa Ewers, attorney at law, who gave a presentation on estate planning. For those who may be involved with property that was inherited, Mavis Gragg, attorney at law, appeared via web-conference to speak on issues related to heir property. Next, Dr. Don L. Renchie, associate professor, Extension Program leader and coordinator with Texas A&M AgriLife Extension Service gave a personal perspective on heir property, based upon his own experiences with the topics of partition sales, volunteer sales, sales contracts, warranty deeds, and mineral rights. Ms. Danette Milican, Houston County tax assessor/collector, and Ms. Carey Minter, Houston County chief tax appraiser, spoke about property tax assessment and ag-use exemption 1/D/1, respectively, giving the group an overview of the tax assessment and appraisal processes. The first day wrapped-up with Mr. Sam Cook speaking on land utilization and how to monetize your land, which included the benefits of hunting leases and agriculture and forestry production. This was followed by Mr. Billy Lawton, program leader, CEP-AgNR, who discussed agriculture and timer timber sales tax exemptions.
Of the 32 participants present on Day 1, 23 completed and returned evaluations. Eighty-seven percent of the participants who completed the survey stated that their understanding of two or more of the topics covered during the workshop was increased and that they probably will adopt some of the practices covered during the workshop.
The second day of the workshop commenced with Mr. Darvin Collins, county executive director, USDA-Farm Service Agency, followed by Mr. Willie Holmon, soil conservationist, USDA-NRCS, who spoke about the roles of their respective agencies, covering FSA farm and tract requirements and USDA conservation programs. In his presentation, Dr. Joshua Idassi spoke about the growing opportunities available in forest agronomy. He was followed by Mr. Michael Easley, state forester II, Crockett District, Texas A&M Forest Service, who discussed the process of developing forest management plans. Angela Moore, Extension associate with Cooperative Extension-AgNR, spoke to the group about the Texas AgrAbility Project. Mr. Pat Shields, senior relationship manager with Capital Farm Credit, rounded out the presentations with an overview of funding opportunities available through Capital Farm Credit. The workshop culminated with a panel discussion. The attendees, who were engaged and asked questions throughout the workshop sessions, also took advantage of the expertise available to voice their questions and to seek expert opinions.
Of the 28 participants present on Day 2, 68 percent of those who completed the workshop evaluation stated that their understanding of two or more of the topics covered during the workshop was increased and 77 percent of the participants who completed the survey stated that they probably will, or definitely will, adopt some of the practices covered during the workshop.
Submitted by Angela Moore