November 2017
California
CalAgrAbility and Ability Tools hosted a webinar titled, "APRIL, CalAgrAbility, and centers for independent living (CILs) in California Serving Rural People with Disabilities". Sierra Royster from APRIL was the featured speaker. The webinar was marketed to and attended by California Foundation for Independent Living Centers' AT specialists. The webinar focused on connecting the independent living community with AgrAbility to serve rural Californians living with disabilities. APRIL presented on their training and services available for CILs to reach disabled families in rural areas. Webinar participants expressed their interest in learning more about APRIL and AgrAbility services and training.
---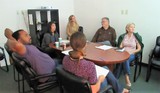 CalAgrAbility staff visited the Farmer Veteran Coalition at their headquarters in Davis. CalAgrAbility staff informed FVC staff about different collaborations CalAgrAbility has had over the years such as DOR and the Ability Tools Device Lending Library. FVC staff informed CalAgrAbility staff of the different fellowships and scholarships that FVC can offer for farmers with disabilities. Staff from each organization were able to meet each other and explain their functions in each respective agency. Future agency collaborative plans and current CalAgrAbility-FVC joint participants were discussed.
---
CalAgrAbility staff attended the veteran farmer outreach in Butte County at Butte College where around 5-10 veterans attended. Staff presented in a forum and gave a 5-10-minute talk about CalAgrAbility, who CalAgrAbility serves, and how they serve their targeted population. Staff also shared some resources that CalAgrAbility can provide. Many agencies and farmer veterans, or soon-to-be farmers, learned about what CalAgrAbility has to offer.
---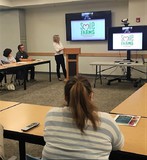 CalAgrAbility presented at the 2017 Disability Awareness Month celebration at the USDA state office. Presentations from CalAgrAbility, Smile Farms, and WorkAbility were streamed live to USDA regional offices across the state. Smile Farms started in New York, and California became the second site. Smile Farms has received vast community support. This was an opportunity for NRCS, FSA, and CalAgrAbility staff to reconnect and discuss projects, available funding, and programs that can benefit mutual clients.
---
Michael O'Gorman from the Farmer Veteran Coalition (FVC) presented at the Western Center for Agricultural Health and Safety (WCAHS) Monthly Seminar Series. He talked about the mission of FVC and the impact of their work, farmworker health, and veteran participants of FVC. He emphasized that many veterans suffer from PTSD after coming back from the war and explained how working in agriculture has impacted many cases of PTSD or other mental problems. He shared that veterans tend to enjoy the work of agriculture, as the work lifestyle is similar to that of being deployed. He shared three stories of FVC participants who have succeeded in agriculture. Many in the audience were deeply touched and moved by these stories, which prompted ideas for a collaborative webinar between FVC, WCAHS, and CalAgrAbility about farmer health and safety in the future.
Submitted by Sara Wat