November 2017
Maine
Preparations for the 2018 NTW continue in Maine! Maine AgrAbility has been scouting locations for exciting Thursday farm tours and potential Monday tours. Richard Brzozowski visited the Riverside Lavender Farm in Steep Falls, Maine. The farm is owned by Mark and Tammy Braun. Mark is a military veteran. They are willing to host a farm tour of military veteran farms for the 2018 NTW. Lani Carlson and Ketra Crosson visited with the IRIS network in Portland, Maine, as a potential tour stop, to checkout their low-vision clinic and new rehabilitation center.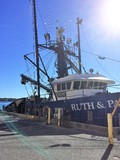 ---
Project Coordinator Lani Carlson attended the 2018 Trawl to Table event sponsored by the Gulf of Maine Research Institute on October 20, 2017. This event is specifically for people who work on food system issues other than seafood and who are interested in learning more about what's happening in fishing communities. The day consisted of learning about GMRI, touring Freedom Fish, learning hands-on about fishing gear, and talking about issues for fishermen on the docks with a fisherman.
---
Richard Brzozowski attended the board of directors meeting of the United Farmer Veterans of Maine (UFVM) on Thursday, October 5, in Bangor. At the meeting, he brought up the topic of Maine hosting the NTW in 2018 and encouraged UFVM involvement.
---
Ellen Gibson of Goodwill attended the Maine Cheese Festival in Union, Maine. In addition to looking at their cheese processing rooms, she talked with cheese makers about the work Maine AgrAbility has done, the quest to learn more about what works and what doesn't for people lifting and carrying, and the high possibility of repetitive injury.
Submitted by Lani Carlson