November 2017
Nebraska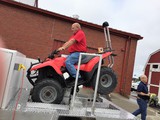 The Nebraska Extension ATV simulator made its debut with training for AgrAbility staff members who will be using it as an educational tool around the state. Since that time, staff used it at a conference and at Husker Harvest Days where several potential clients learned about AgrAbility services.
---
Rod Peterson attended a Beginning Farmer meeting in Ashland where it was reported that Chapter 12 bankruptcy filings are showing an increase in Nebraska this year. Other service providers in attendance included the Natural Resource Conservation Service, Farm Service Agency, and Farmers Hotline. Legal Aid of Nebraska sponsored the event.
---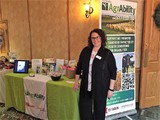 Emily Freudenburg and Susan Harris-Broomfield attended Nebraska Extension's Front Door Forum and gave a five-minute presentation about the program, and provided information at a booth. This event opportunity reached front-office staff of Extension, many of whom were unaware of the program.
---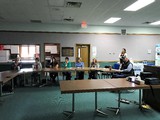 Emily and a past client shared about the importance of the AgrAbility program for NRCS offices throughout Nebraska in honor of Disability Employment Awareness Month. The individuals were very receptive to the program and many wondered how they could get more involved.
Submitted by Susan Harris-Broomfield