November 2017
Pennsylvania
AgrAbility PA and the Natural Resources Conservation Service are working to strengthen their relationship to provide needed services to Pennsylvania farmers. Project Assistant Abbie Spackman began by providing a presentation to one of the NRCS field offices to provide them with information about AgrAbility services and to discuss ways for NRCS staff to promote AgrAbility during farm visits.
---
The Pennsylvania Occupational Therapy Association held their annual conference on October 6 & 7, 2017. AgrAbility participated in the event by displaying adaptive tools and providing AgrAbility information to attendees. Over 50 occupational therapists, many of whom work in rural areas, stopped to talk to AgrAbility staff.
---
AgrAbility PA staff provided a presentation to members of PA CAREs, a group that meets monthly to promote and increase services for veterans. The presentation focused on the many opportunities for veterans in agriculture and the resources available to help them start a career in ag, along with disability-specific resources. Attendees included representatives from Red Cross, the PA Food Bank, local health care providers, leaders of veteran organizations, and more.
---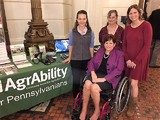 AgrAbility PA staff joined PA State Senator Christine Tartaglione for Disability Awareness Day in Harrisburg at the State Capitol building. October marks National Disability Employment Awareness Month - inclusion and equality for everyone in the workplace matters! AgrAbility PA was among a dozen statewide organizations, including partners at Pennsylvania Office of Vocational Rehabilitation, Pennsylvania Office for the Deaf & Hard of Hearing, PA's Initiative on Assistive Technology (PIAT), and Pennsylvania Assistive Technology Foundation (PATF). Photo from L to R: Abbie Spackman, Senator Tartaglione, Jackie Wardle, and Kendra Martin. Click here to see Senator Tartaglione's article on this event.
---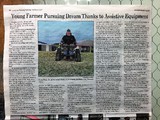 AgrAbility PA client Ryan Frye has had quite a month in the spotlight for his persistence and determination to continue farming despite a spinal cord injury at age 19 that left him paralyzed. His story of perseverance and working with AgrAbility PA appeared in the popular Lancaster Farming newspaper on Oct. 7 (pictured) and AGDAILY website (click here) on Oct. 26, and had a viral week on Facebook and other social media with a video of him operating a Life Essentials flatbed truck lift - viewed more than 33,000 times! Several other state AgrAbility projects and the NAP featured his story. Thanks for the support!

Submitted by Abbie Spackman