November 2016
Tennessee
Tennessee AgrAbility PI Tim Prather attended the Sunbelt Ag Expo in Moultrie, GA. Tennessee was honored to be the "spotlight state" at the 40th annual Expo. Over 85,000 visitors to the Expo were instantly transported to the Volunteer State for a walk from Memphis to Mountain City. The display showed off the state's agriculture, landscape, tourism, and people. The exhibit was a true team effort from multiple agencies across Tennessee. Tim said, "GA Farm Again represented AgrAbility well at the 2017 Sunbelt Ag Expo." Listen to Commissioner Jai Templeton share about Tennessee's spotlight here.
---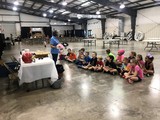 Decatur County FCS/4-H/County Director Charlotte Moore demonstrated the importance of helmet safety using the egg helmet demonstration. Charlotte said, "We used the ATV demo with all 3rd graders in the county. There should have been 98 youth at our event. Youth were rotated through six different stations at the Tennessee River Agricultural Exposition in Parsons, TN. The ATV demo was one of those stations. Youth learned that wearing a helmet is important for protecting their head. FFA students assisted with the project."
---
After Decatur County finished their safety day, Hickman County Director Troy Hickman used the egg helmet demonstration at their youth safety day. The egg/helmet demonstration traveled many miles during the month of September and October.
---
Tennessee staff launched the Tennessee Beginning Farmer Development Program web page and Facebook page. Partnerships help AgrAbility continue their efforts to reach veterans with disabilities who want to farm. Take a look at the web page here.
---
Dr. Temple Grandin, friend of AgrAbility and a keynote speaker at the NTW in Colorado, came to Tennessee. Dr. Grandin is a professor of animal sciences at Colorado State University. She was diagnosed with autism as a child and her parents were told that she should be institutionalized. Dr. Grandin has since become a successful livestock-handling equipment designer, prominent author, and speaker on the subjects of autism and cattle handling (www.templegrandin.com).The advocate for people with autism, whose life story was the subject of an Emmy Award-winning HBO full-length film, spoke at the University of TN Monday, October 9. Grandin, who is also an inventor and renowned animal behavior expert, delivered the third annual Ken and Blaire Mossman Distinguished Lecture in the Cox Auditorium of the Alumni Memorial Building. She addressed students, faculty, and staff, during the lecture and was inspirational to all!
Submitted by Tennessee AgrAbility Project