December 2017
Missouri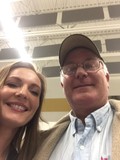 David Middleton, Missouri AgrAbility outreach worker and collaborative partner from Lincoln University, attended the Newton/McDonald Counties agriculture banquet sponsored by the Neosho Chamber of Commerce in Neosho. Carey Portell, Missouri Barn Builder and national motivational speaker, was the evening's guest speaker. Carey relayed her recovery from an automobile accident, and emphasized how Missouri AgrAbility and Vocational Rehabilitation were important in her recovery and continued farming activities.
---
To meet its goal of building statewide service capacity and to address the specialized needs of AgrAbility's clients, Missouri completed an external programmatic review process that also included soliciting feedback from farmers and ranchers with disabilities. Collaborative and cooperative partners will meet to review the results and discuss ways in which to address Missouri's gaps.
---
Cooperation and collaboration between the Missouri AgrAbility Project (MAP) and Missouri Division of Vocational Rehabilitation (Mo DVR) has recently been greatly enhanced through the creation within MO DVR of a special position that will liaison directly with all agricultural clients seeking MO DVR services: agriculture/rural employment. Furthermore, Missouri AgrAbility is especially pleased to announce that Mr. Ray Drake, who has worked with the MAP for many years, has been appointed by MO DNR to fill this newly created position. In addition to having attended many state, regional, and national AgrAbility meetings and participated in many training events, Ray personally owns and operates a farm and cattle operation, and is especially well-qualified for this new role. Although the new position will not directly replace the client referral, development, and support services provided by the MAP, a substantial improvement in the efficiency and effectiveness of serving the needs of AgrAbility clients who are eligible for MO DVR services is expected. Improving timeliness and consistency for client services across all DVR regions in Missouri will be a major goal for Mr. Drake. The creation of the new position directly addresses the long-term goal of Missouri AgrAbility to improve permanency and integration of services with other Missouri agencies who can support the needs of AgrAbility clients.
Submitted by Karen Funkenbusch, David Middleton, Willard Downs
---
2017 was a very productive year for the Missouri AgrAbility Project's marketing and networking efforts through the Brain Injury Association of Missouri (BIA-MO). Outreach was expanded to more professionals in the fields of vocational services, health care, and military through BIA-MO's participation in employment, rehabilitation, and VA conferences as well as BIA-MO's Networking Coffees.
In addition, survivors of brain injury and their family members learned about the Missouri AgrAbility Project through expanded distribution of the BIA-MO newsletter, website visits, support groups, and our Survivor & Family Regional Seminars.
Large-scale public outreach included the Brian Injury Fact of the Day media campaign across Missouri and national readers of the The Challenge! magazine of the Brain Injury Association of America.
Submitted by Maureen Cunningham