December 2017
National AgrAbility Project
NTW 2018 To Do List
The hosts are preparing for our arrival and the sessions are planned! NTW 2018 is shaping up to be a great event.  Pre-conference events will take place on Monday, March 19th, with our opening reception that evening.  The full conference kicks off on Tuesday, March 20th and continues through Wednesday, March 21st.  The banquet and auction on Wednesday night, and some great tours booked for Thursday, March 22nd. Look for registration links in your email box soon!
Find funding to bring one of your state's farmers to the event.  Each SRAP is asked to fund one farmer, with stipends being available for additional farmers through generous donations. Let Chuck Baldwin know who you are bringing so that can be recorded.
After your SRAP has funded a farmer, have additional farmers apply for a stipend from the NAP. Click here for the stipend form.  Applications for stipends are due February 7th, 2018.
Solicit donations for farmer stipends; silent auction; and live auction items.
Start creating your state's raffle basket.  We had a great showing from our SRAPs at last year's event, and everyone enjoyed taking the chance to win.
Look for details via email in the next week for registration and hotel information.
If you would like to ship items in advance of the event, Lani Carlson of Maine AgrAbility has agreed to receive them.

Ship to: Maine AgrAbility – University of Maine Cooperative Extension, 138 Pleasant Street #1, Farmington, ME 04938
Contact us any time: Tess McKeel tmckeel@goodwillfingerlakes.org, 585.447.9015;
or JoBeth Rath jbrath@goodwillfingerlakes.org, 585.402.2059
---
The 2018 Virtual NTW is coming January 23-25, and the slate of six webinars has been established. Check your email soon for a registration link for these great sessions:
USDA/NIFA Update - Aida Balsano, USDA/NIFA
Beekeeping Assistive Technology - Ned Stoller, Michigan AgrAbility
USDA: Connecting Veterans to Resources - Stefanie Pidgeon, USDA
Improving Farm Home Accessibility, Safety, and Use of Space - Carla Wilhite, University of New Mexico
Mental Health, Suicide Risk and Establishing Community Supports - Cheryl Long, RN, Goodwill of the Finger Lakes
Using the VA Accelerator Program to Help Farmers with Disabilities - Phillip Selleh, Veterans Administration and Desma Brooks, farmer veteran
---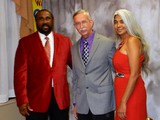 Chuck Baldwin represented AgrAbility as a speaker and exhibitor at the 27th Annual National Black Farmers Association (NBFA) Conference November 3-4 in Hattiesburg, Mississippi. Roughly 200 people attended the event. Speakers included, among many others, Marc Morial, president and CEO of the National Urban League, Dr. John Wesley Boyd, president and founder of the NBFA, Kara Brewer Boyd, cofounder with Dr. Boyd of the Association of American Indian Farmers and program/event coordinator for the NBFA, and Mr. Sherri Jones, award-winning civil rights activist.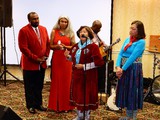 Because Dr. and Mrs. Boyd lead both the NBFA and the Association of American Indian Farmers, this event was an excellent opportunity for sharing AgrAbility with both African American and Native American ag leaders and farmers. Latonna Old Elk, president of the First American's Land Grant Consortium (FALCON) and Extension coordinator for Little Big Horn College in Montana (where Paul Jones and Chuck Baldwin shared an AgrAbility workshop in September) also shared at this conference.
AgrAbility was honored during Friday night's Award Banquet when the National Black Farmers Association presented AgrAbility with their Partner of the Year 2017 award. This is a great honor for AgrAbility and speaks well of the efforts AgrAbility makes to ensure that minorities in agriculture have the same opportunities as other ag workers to access and benefit from the services and programs of the USDA. The award reads:
"27th Annual National Black Farmers Conference
Partner of the Year Award
Recipient: AgrAbility
We are pleased to present AgrAbility the Partner of the Year 2017 Award at the 27th Annual National Black Farmers Association Conference.
AgrAbility has been a consistent partner in helping to provide Black Farmers with technical assistance to overcome obstacles facing their daily operations.
We look forward to continuing this meaningful partnership."
The National AgrAbility Project thanks the NBFA for their participation with AgrAbility in meeting the needs of Black Farmers, including those with disabilities, across the United States.
Submitted by Chuck Baldwin
---
The National AgrAbility Project and the Purdue Health and Safety Program collaborated with a display at the 2017 National Association of Extension 4-H Agents in Indianapolis, Indiana, at the JW Marriott hotel. Over 1,100 4-H extension educators from across the United States attended and visited the exhibit area. The display included NAP brochures, videos, arthritis publications, and Toolbox Assistive Technology Database products. The health and safety information featured the Youth Farm Safety and Certification Program and the Stop, Think & Live grain bin safety video.
Submitted by Steve Swain