December 2017
Ohio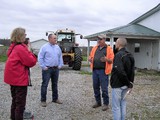 In November, Ohio AgrAbility hosted two professional international low vision specialists from the U.S. State Department's Professional Fellows Program. A staff member of Opportunities for Ohioans with Disabilities (OOD), Ohio's vocational rehabilitation program, hosted the two Fellows from Bulgaria and Romania. While they do not typically work with rural communities in their home countries, the fellows were very impressed with AgrAbility's work and said they would be using The Toolbox, as well as fact sheets and other resources on the NAP and OAP sites. During the fellows visit, OAP held a webinar, "Ohio AgrAbility Helps Ohio Farmers: How state agencies and community organizations can collaborate to support farmers with disabilities," and the staff took the fellows and an OOD staff member to meet a farmer-client to demonstrate how the program assists farmers. The OOD staff member was especially gratified to see how simple modifications and equipment purchased by OOD have allowed this farmer to manage his disability and continue working. As a result of the farm visit, the farmer and an OAP staff member were featured in an article in the quarterly newsletter, OOD Focus: "OOD and AgrAbility Work Together to Help Farmer".
---
The greatest impact within the scope of client-centered support is continual and increasing relationship with Opportunities for Ohioan's with Disabilities (Ohio's vocational rehabilitation services agency) to impact the lives of farmers with disabilities. OH AgrAbility staff are seeing more counselors excited about the work that they do and appreciating their vocational assessments. This grant year marks the first time in recent program history that OOD has accepted assessments for two non-farmers who are employed in the broad field of agriculture: a landscaper and a butcher. OAP is a great resource and "dot connector" for Ohio farmers, but OOD helps make many of AgrAbility's recommendations become a reality for most farmers.
---
The second greatest impact for OH AgrAbility is their growing peer-to-peer network and the relationships that have been built there. Those relationships between AgrAbility clients provide a kind of support that staff cannot provide to them without a Peer to Peer program.
---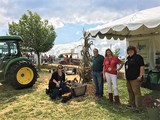 A unique impact from 2017 was Ohio AgrAbility's participation in Farm Aid. Through this experience, staff shared AgrAbility's mission with a new and different audience who were very receptive: the general public attending the concert event. OH AgrAbility also collaborated and built relationships with other SRAPs in their tri-state area. Look for a session at the 2018 NTW about this shared effort between the Ohio, Pennsylvania, and West Virginia programs.
Submitted by Laure Akgerman