December 2017
Pennsylvania
AgrAbility PA has launched a new website at agrabilitypa.org. Featuring resources, success stories, assistive technology, and more, the site will allow clients and web browsers alike to more quickly and conveniently connect with AgrAbility PA staff members, or to find information on services and support for farmers. The site is fully responsive to mobile and tablet devices. Feedback is welcome! Let AgrAbility for Pennsylvanians know what you think.
---
Field Notes, AgrAbility PA's printed newsletter, was mailed earlier this month to more than 2,000 contacts across Pennsylvania. The issue highlighted all things dairy - from a client profile story on dairy farmer Philip Dean (whose family started farming in 1840) to assistive technology for dairy barns and state resources for dairy farmers. Check out the printed newsletters online! To subscribe to the mailing list, email AgrAbility PA at agrability@psu.edu.

---
Pennsylvania AgrAbility participated in an assistive technology awareness day hosted by the DuBois district Office of Vocational Rehabilitation (OVR) on November 9th. AgrAbility staff provided assistive technology demonstrations and information about farm assistive technology to occupational therapy students.
---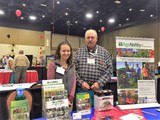 The Pennsylvania Farm Bureau invited AgrAbility to participate in their 18th annual health & safety fair on November 14th. AgrAbility staff provided information about the services AgrAbility can provide and the resources available to farmers who struggle with disabilities. Several past clients and their families stopped by to visit and shared how AgrAbility has made a difference. Project Assistant Abbie Spackman is pictured with AgrAbility client James Wilson.
---
The eXtension Ag Safety and Health Community of Practice and the Enhancing Educational Programming for Beginning Farm and Ranch Women are working together to provide a "one-stop" for resources about agricultural safety, health, and mechanization information specifically for women. The Women in Ag page was launched on the FReSH (Ag Safety & Health Community of Practice) page through a partnership between FReSH, Women in Ag Learning Network, and AgrAbility (Missouri, Nebraska, and Pennsylvania). The page can be accessed by clicking here. FReSH is forming a women in ag work group and Linda Fetzer (lmf8@psu.edu) may be contacted for more information about joining eXtension and the work group.
Submitted by Abbie Spackman