December 2016
Tennessee
TNAP celebrated Veterans Day with the opening of a new University of TN Veterans Resource Center. It is a one-stop student service center and another referral source for TNAP. Staff also promoted The Next Mission: Breaking Down Barriers for Veterans in Agriculture to various groups.
---
TNAP attended the TAAA&S (Tennessee Association of Agricultural Agents and Specialists) regional East TN meeting where staff toured the UT Arboretum and parts of the Oak Ridge National Lab: the supercomputers, the EVEREST lab, and 3D printing at the manufacturing demonstration facility. Staff also planned for the upcoming conference 2018 NACAA/AM/PIC conference July 29-August 2, 2018 - in Chattanooga, TN. https://www.nacaa.com
---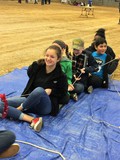 TNAP participated in the annual Calloway County Safety Days for middle and high school students. There were 828 students in attendance. With the help of Murray State University Graduate OSHA students, TNAP provided disability awareness hands-on activities for three consecutive days.
---
Website of interest: TNAP found a great new resource for beginning farmers or newcomers to TN - the TN Farm Link: helping farm seekers and farmland owners find each other. It is a not-for-profit initiative from the Appalachian RC&D Council and the TN Department of Agriculture, but will benefit, and depend on, all agricultural-support parties across the state. It is similar to a program in NC. This website will soon be a database and directory for landowners who would like to see their farm and forest land kept in agriculture, as well as for farmers looking for land to lease, purchase, or work with under other arrangements. TNAP attended a webinar on the TN Farm Link.
Submitted by: Tennessee AgrAbility Project (TNAP)