December 2017
Wisconsin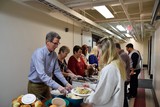 AgrAbility of WI (AAW) is grateful to be a part of the University of Wisconsin-Madison Department of Biological Systems Engineering and enjoyed helping them with the annual Thanksgiving feast. This year, faculty and staff served over 150 students! Lunch was piled high with turkey, stuffing, mashed potatoes, green beans, cranberry sauce, pie, and heaping servings of whipped cream.
---
AgrAbility of WI (AAW) was recently featured as the #TakeoverTuesday hosts on WI Farm Bureau's (WFB) social media sites Instagram and SnapChat. Throughout the day AAW staff shared information about services and resources available, staff activities, and ways to get involved in the program. The #TakeoverTuesday campaign allowed AAW to reach thousands of WFB's followers throughout the state.
---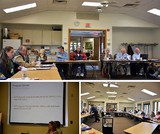 At the beginning of November, AgrAbility of Wisconsin (AAW) staff met with a wonderful group of media, professionals, and clients involved in the agriculture industry that make up the AAW Advisory Council. These members provide guidance and support the program throughout the year. It is because of their help that the program is so successful.
Submitted by Abi Jensen