February 2018
Missouri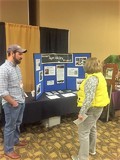 Lincoln University hosted an AgrAbility booth at the Great Plains Growers Conference in St. Joseph, MO. Shon Bishop and David Middleton, both outreach workers with the Missouri AgrAbility program, visited with farmers from Missouri, Kansas, Nebraska, Iowa, and South Dakota. Over 300 farmers attended the three-day conference for beginning and seasoned growers, January 11 - January 13. This year the Great Plains Growers Conference and Trade Show featured:
A keynote address by John Ikerd, professor emeritus of agricultural economics: "The status and future of local foods."
Educational information from five states: Iowa, Kansas, Missouri, Nebraska, and South Dakota, along with that of vegetable and fruit growers from those states.
50-plus exhibitors trade show featuring the latest seeds, supplies, equipment, and grower information.
Poster sessions providing valuable university research.
Hands-on learning opportunities, including plant disease diagnostics and ID clinic.
ADA compliant facility with the latest technology to support learning.
---
Missouri AgrAbility, in collaboration with Missouri's USDA Farm Service Agency, hosted a one-day Understanding the ABCs of USDA FSA Programs workshop. During the morning session of the full day workshop held in Eldon, Missouri, socially disadvantaged, limited resource, military veterans, women, and beginning farmers and ranchers with disabilities (AgrAbility clients), heard from local and state USDA representatives about their USDA programs in English through an introductory plain language presentation about USDA. Participants learned how USDA can serve their needs, where and how best to communicate with USDA, and when an individual could benefit from participating in USDA programs. During the afternoon session, participants learned about the USDA NIFA funded Missouri AgrAbility Project, holistic farming employment and career options, how to apply for vocational rehabilitation assistance, resources of local and state agencies and organizations, and assistive technologies and adapted devices for farmers with disabilities. Participants received a customized Missouri-specific USDA Farm Service Agency and Missouri AgrAbility binder of health, safety, and wellness information, and farming and ranching resources. During February, six additional Understanding the ABCs of USDA FSA Programs and USDA NIFA-funded Missouri AgrAbility workshops will be held.
Submitted by Karen Funkenbusch and David Middleton
---
Kelly Cochran, PharmD, BCPS, a Missouri AgrAbility collaborator, co-authored an American College of Clinical Pharmacy white paper titled: Providing Comprehensive Medication Management in Telehealth. This white paper may be of interest to AgrAbility professionals, rural health professionals, and individuals with disabilities, as telehealth can be an efficient means to enhance access to comprehensive medication management. View it by clicking here.
Submitted by Kelly Cochran
---
The Missouri AgrAbility Project has been highlighted by Maureen Cunningham, with the Brain Injury Association of Missouri, at marketing and networking meetings, including the Missouri Association of Rehabilitation Facilities, Brain Injury Association Affiliate Chats, and professional development trainings for school personnel. At these events, there was recognition of the Missouri AgrAbility Project and its purpose and opportunities for individuals with brain injury to be successful with farming or ranching as an employment opportunity, for community integration, and self-sufficiency.
Submitted by Maureen Cunningham