March 2018
California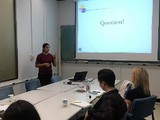 California AgrAbility attended Farzaneh Khorsandi's seminar on agricultural tractor operator safety in roll-over accidents. Khorsandi is UC Davis Biological and Agricultural Engineering Department's new assistant safety and health engineering specialist. Tractor rollover is the leading cause of death in tractor accidents, and the most effective way to prevent rollover deaths is the combined use of seat belt and roll-over protective structures (ROPS). Khorsandi's study predicts the forces applied on ROPS using the Ramberg-Osgood models, as well as the effect of speed on actuation torque.
---
California AgrAbility attended the monthly RISE Collaborative meeting. This month the special presentation was on human trafficking. The majority of human trafficking victims are international workers, told they have a job in the United States but then forced to labor with little compensation or forced to perform sexual acts. Teenage runaways are also victims, often trafficked within the first 48 hours of running away. Sacramento is now trying to incorporate more programs to involve youth to prevent them from running away. Staff shared the mission of AgrAbility with other agency representatives and promoted the upcoming promotores conference.
---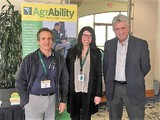 California AgrAbility attended the North American Agricultural Safety Summit hosted by the Agricultural Safety and Health Council of America (ASHCA) in Scottsdale, Arizona. Staff learned about new agricultural safety initiatives and networked with other safety specialists throughout the country. Staff got a chance to catch up with Paul Jones from NAP, and Bob Aherin, program director of Illinois AgrAbility.
---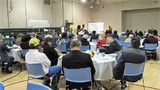 California AgrAbility attended the first "Growing Together" Black Farmers with Urban Farmers Conference in Fresno, California. This conference was a timely event as it was on the last day of Black History Month, and around 100 attendees could acknowledge and celebrate this month together. Participants were able to learn about different USDA resources available to them to help them successfully start farming or keep farming. California AgrAbility was one of these resources reaching out to many of the participants and showing them small ergonomic gardening tools that were available to them.
Submitted by Sara Wat