March 2018
Georgia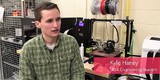 Georgia AgrAbility recently filmed engineering students at UGA sharing their experiences working with farmers served by the project. One of the students will be attending the AgrAbility National Training Workshop in Maine. Join them on March 20th at 9:15a.m. at the NTW to meet the student and to view film footage.
---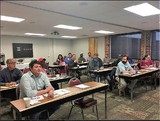 The AgrAbility program co-sponsored a workshop to introduce potential farmers to USDA programs and loans at the University of Georgia Tifton campus on Wednesday, Feb. 28. The workshops introduced different USDA program components to first-time or small-scale producers. During the workshop, experienced farmers served on a panel and shared their first-hand experiences with various USDA programs. This workshop also attracted a number of veterans who are interested in getting into agricultural production, or who want to expand their current operation.
---
Staff attended and spoke to about 100 farmers from Georgia at the Southern Sustainable Agriculture Working Group (SAWG) annual conference in Chattanooga, TN. The presentation included information about Farm Again/AgrAbility Georgia's Farmer Boot Camp and all the workshops that they are conducting.
---
Staff spoke to Women's Club in Dahlonega, GA, about the services that Farm Again/AgrAbility has to offer. In addition, they were able to speak at the Dahlonega Chamber of Commerce Annual Membership Dinner about Farm Again/AgrAbility and the Farmer Boot Camps that they are conducting. The meetings had a combined attendance of 37 people.
---
Georgia AgrAbility sponsored a webinar on February 5 titled "iPad Apps and Adaptations for Farmer with Disabilities". Every year there are new iPads, phones, apps, accessories, and a new IOS. This webinar discussed the latest apps and adaptations that can be used to support farmers with disabilities, including: apps for auto-scan and read; apps to measure; amplification apps; auto phone answering for farmers who experience limited grasping; apps for mobility impairments; apps for reminding and organization; creating and using custom vibration and auditor mapping; magnification apps; adaptations for the stylus; holding, mounting, and body-worn carrying devices; decibel apps; and the use of voice assistants and IFTTT recipes on the farm. The webinar was conducted by Dr. Therese Willkomm.
---
AgrAbility in Georgia is co-sponsoring several workshops geared to new or beginning farmers. From how to drive a tractor to selling at the farmers market, there is a topic for everyone. The workshops will be held on UGA's Tifton Georgia campus. There is no fee and lunch is included. Details for these workshops can be found in the "Upcoming events" section of this e-Note.
Submitted by Rebecca Brightwell