March 2018
Nebraska
Staff members had the opportunity to provide booths at the Healthy Farms Conference in Lincoln, hosted by Nebraska Sustainable Agriculture, at the Buffalo Bill Expo in North Platte, Nebraska, and the Women in Ag conference in Kearney, Nebraska. All events offered opportunities to network with vendors, share information with potential clients, and make contacts with small sustainable farms.
---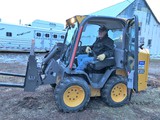 Nebraska AgrAbility has been busy with client services. Chip, a Nebraska AgrAbility client, states "They analyzed things that would help me get my work done easier and provided some labor-saving equipment that will be very useful in the day-to-day operation. This encouraged me to feel confident that I could keep going. It is a wonderful program to pursue and the emotional support you receive is invaluable."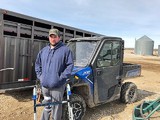 Brock, a Nebraska AgrAbility client, stated "It is nice to be given tasks again on the farm to complete, because of the new equipment that I have received through the program and VR. Without it, I would just be going to therapy and sitting at home not being productive."
Submitted by Susan Harris-Broomfield