April 2018
California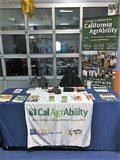 California AgrAbility attended the first Tri-County Transition Fair reaching out to students, teachers, and agency professionals on the mission of AgrAbility and how the program can help. Yolo County, Yuba County, and Sutter County had high school juniors and seniors participate in the event with over 300 students and educators stopping by. Students with disabilities who are transitioning from high school into farming were informed about the assistance California AgrAbility can provide.
---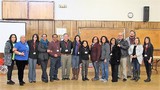 California AgrAbility staff led the Promotores Conference Organizing Committee in the planning of the 5th annual conference. This Promotores Conference was held on March 3rd in Woodland, California. The event brought together 75 promotores from Northern California. Each participant received California AgrAbility literature. Some of the workshops held were on pesticide safety, grief & loss, self-help, and worker health & safety. Throughout the planning of the conference, California AgrAbility staff spoke to the committee about AgrAbility services to create a network of referrals among the agencies organizing the event.
---
California AgrAbility attended the monthly RISE Collaborative Meeting where RISE presented their new Farmworker Outreach Program. The program will maintain contact with farm owners and farm workers from Yolo County and surrounding communities. California AgrAbility will be part of their Farmworker Quarterly Collaborative and will receive direct referrals from RISE outreach staff. As part of this outreach program, RISE hosted the Que Viva la Vida Women's Conference that brought together 100 attendees. California AgrAbility has been part of these farmworker conferences since their start about five years ago.
---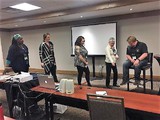 California AgrAbility and Ability Tools staff were present at the 2018 AgrAbility Training Workshop in Portland, Maine. Staff led an unconferencing session on the topic of effective networking strategies for AgrAbility staff. California AgrAbility also participated in moderating conference sessions. The new UC Davis Biological and Agricultural Engineering health and safety engineer, Farzaneh Kouhanestani, joined California AgrAbility staff at the conference to learn more about the AgrAbility mission. In a joint effort with NAP, California AgrAbility supported a travel stipend for an AgrAbility participant from Washington.
Submitted by Sara Wat