April 2018
Michigan
Promoting safe work practices to enhance an individual's health and safety on the farm goes hand-in-glove with enhancing the ability of a farmer with a disability to continue to perform farm work. Michigan AgrAbility's commitment to farm safety was shared with their Facebook followers as it shared the website promoting Kansas Farm Bureau's Ag Safety Awareness Week. Even if it's not a safety week, the resources are useful year-round. If you didn't have an opportunity to review this material, you can find it here. Remember: "No One Can Take Your Place!"
---
Both Michigan AgrAbility and Michigan State Extension want farmers to succeed in their agricultural operations, both personally and in profitability. MSU Extension offers a number of educational opportunities for potential farmers, new farmers, and existing farmers. Michigan AgrAbility promotes these educational opportunities on its Facebook page to assist in getting the word out.
---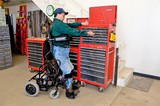 Highlighting and disseminating new assistive technology through its social media pages is one of the many tasks accomplished by Michigan AgrAbility staff. A couple of new assistive technologies were highlighted in March: a drive-through gate and a standing wheelchair. Michigan AgrAbility shared an Easterseals Michigan post thanking The Standing Wheelchair Company for its donation of a brand-new wheelchair for a Michigan AgrAbility client who can now do things that he wasn't able to do before!
---
Once again, Alpha Gamma Rho TAU Chapter is hosting an event with the proceeds directed to Michigan AgrAbility! AGR is sponsoring a new event: the Alpha Gamma Rodeo! Teams of four individuals will compete in various events. Thanks to AGR for their continuing support of Michigan AgrAbility!
---
Last, but not least, like many of you, Michigan AgrAbility personnel enjoyed the educational and networking opportunities at the National Training Workshop. Staff learned much, met new people, were inspired, and are grateful to be a part of such a great group of individuals dedicated to making life better for other people. Thank you and kudos to the National staff for all the great work this year! Looking forward to next year already!!!
Submitted by Deb Chester