April 2018
Missouri
Missouri AgrAbility staff, in partnership with Missouri Vocational Rehabilitation case managers, facilitated several level II onsite farmstead assessments. Farmers and ranchers with disabilities do support their family and community by continuing to work in their chosen field of agriculture, with direct services by Vocational Rehabilitation as well as technical one-on-one assistance and educational support from Missouri AgrAbility.
---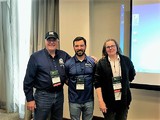 Susan Jaster, Shon Bishop, and David Middleton, outreach specialists with Lincoln University Cooperative Extension and Missouri AgrAbility, attended and presented several conference sessions at the 2018 National AgrAbility Training Workshop in Portland, Maine. Karen Funkenbusch served on the NTW planning committee and as an NTW session moderator.
---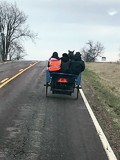 Over 800 Mennonite farm families gathered at the Central Missouri Produce Auction Center in Fortuna, Missouri, to participate in the first annual Farm Safety and Health Day. Elders and community leaders led presentations such as: "Who Really Cares About Farm Safety," "Can You Afford to Farm Safely," "Why Wait till There's An Accident," and "The First Minutes Count the Most". Chosen volunteer leaders provided health booths and farm safety hands-on demonstrations.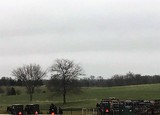 Culturally appropriate and relevant teaching practices were used to educate participants about agricultural tools for farmers with disabilities, low-tech ergonomic hand tools, poison look-a-likes, hearing and respiratory protection, buggy reflective devices, livestock, pond/manure, safe grain handling, tractor safety, and prevention of secondary injuries. Missouri AgrAbility staff talked about their services, how AgrAbility can help farmers and farm families with disabilities, and shared resources. Free health screenings and lunch were also provided. Sponsors for the full-day farm safety and health activity included Citizens Bank, Bank of Versailles, Community Point Bank, Chapman Animal Clinic, Truck Country, NutraAg, Martin Metal, BW Graphics, University of Missouri Extension, Versailles Vet Clinic, Lions' Club, CoMO Electric, Missouri Farm Bureau, Dick Hutchison Auction, Hibdon Gravel and Weaver Tire.
Submitted by Karen Funkenbusch and Shon Bishop
---
Maureen Cunningham, executive director for the Brain Injury Association of Missouri, presented at the NTW regarding working with individuals with brain injury. Audience participation highlighted the different effects of brain injury and the impact on life for the injured person and family members. Great suggestions on equipment and operation modifications were shared during the session.
Submitted by Maureen Cunningham
---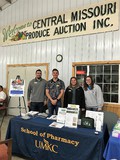 Pharm to Farm and University of Missouri-Kansas City School of Pharmacy, Missouri AgrAbility Project collaborators, participated in the inaugural Farm Safety and Health Day in Fortuna, MO. The event was well attended with nearly 800 farmers and farm families, 98% of which were from the regional Mennonite communities. Four student pharmacists and one pharmacist screened 19 individuals for high blood sugar and referred one to establish care with a primary care physician. Fifty percent of the 15 individuals screened for high blood pressure were referred to a primary care physician and educated about signs and symptoms of hypertensive emergencies, complications of long-standing untreated high blood pressure, and impact of uncontrolled blood pressure on productive living. Health and wellness materials were provided along with regional community resources for primary care. Education was shared with individuals who take medicines regularly regarding methods to decrease trips to town/the pharmacy by requesting mail delivery, home delivery, and medication synchronization programs, so that all medicines can be filled on the same date at regional pharmacies.
Pictured here are UMKC student pharmacists, Jay Zalis, Dalton Brown, Taylor Tuepker, and Caitlin Meyer.
Submitted by Kelly Cochran