April 2018
Pennsylvania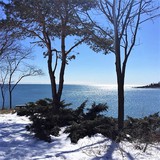 Several staff members from AgrAbility PA participated in the 2018 National Training Workshop in Portland. It was a great networking, training, and educational opportunity for those involved with AgrAbility to connect and share information, resources, and services, to serve the agricultural population. Portland was a great city to take in, and everyone enjoyed the food and fun! Thanks to Strong Arm Lift for making the trip to Maine from Pennsylvania! It was great having them as vendors. For more about Strong Arm Lift, click here.
---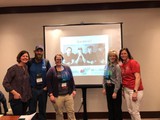 AgrAbility PA staff member Kendra Martin collaborated on a session with staff members from Ohio AgrAbility, West Virginia AgrAbility, and Farm Aid's Jennifer Fahy. The presentation highlighted their experiences as exhibitors and participants at the 2017 Farm Aid event. The three SRAPs joined forces to present a hands-on, interactive exhibit featuring adaptive equipment and assistive technology at the event's Homegrown Village. For more on this, click here.
---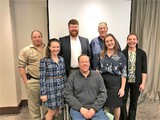 AgrAbility PA's Abbie Spackman, AgrAbility WI's Ami Cooper, and WI dairy farmer Adam Faust presented the "Assistive Technology for Dairy Farmers" session during the National Training Workshop. Both projects work with a high number of dairy farmers and frequently make recommendations for assistive technology that can help them keep milking. The session highlighted some of the most common recommendations and examples of how the devices have been implemented. Four client stories were shared, including one dairy goat farmer. For more information about the session or assistive technology for dairy farmers contact Abbie Spackman.
---
AgrAbility PA Project Assistant Abbie Spackman enjoyed sharing tips with new AgrAbility staff members during the new staff training session at the NTW. Tip highlights included:
Utilize the NAP Listserv and read the e-note!!
Do not be afraid to ask questions!
Review the resources on the NAP and SRAP websites!
Visit eXtension.org for a great list of resources!
Be confident! As new staff members you bring new ideas and experiences to the project, speak up! Feel free to contact Abbie for additional tips.
---
AgrAbility PA recently wrapped up revisions to its project brochure. The new version is farmer-focused, highlighting brief stories, photos, and quotes from farmers AgrAbility PA has served. The size fits in a standard #10 envelope, which makes it easy to mail or distribute at events. If you would like a few as a resource or as an example, please send your contact information to Kendra Martin and it will be sent to you. A PDF is is available for your viewing by clicking here.
Submitted by Abbie Spackman