May 2018
Kentucky
On April14th, KY AgrAbility hosted the "Cultivating Accessible Opportunities for Veterans in Agriculture: A Beginning Farmer Training" workshop at the Kentucky State University Research and Demonstration Farm. Andy Pressman from the National Center for Appropriate Technology (NCAT) presented basic training, from writing a business plan, to finding funding, to pricing of product. Amanda Robertson spoke on the programs available from the USDA-FSA. Water quality plan training was also incorporated into the sessions. Dr. Amanda Gumbert from UK Water Quality showed why farmers in Kentucky need a plan for their farms. During lunch, everyone was able to participate in a hands-on demonstration of adaptive equipment. Superior Van and Mobility brought a van with hand controls and wheelchair accessibility. The Trackchair was available for inspection and demonstration, as was the KY AgrAbility modified Kubota. Afternoon sessions involved building and planting accessible raised beds and training on how to make gardens accessible for various disabilities. Even though the weather was not cooperating, everyone went away with a lot of information.
---
KY staff are helping to design two accessible garden spaces at local assisted living centers. These new facilities want to have residents participate in growing some of the food for the centers and for a small garden market. These are interesting projects and should provide some needed outdoor activity for the residents.
---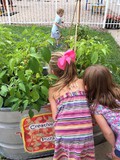 Easter Seals Cardinal Hill, one of the KY nonprofit partners, sent an article for publication titled, "Taking on Disability Together". This article expresses the impact of the accessible garden project on the children at the day care at Cardinal Hill. KY AgrAbility has aided in establishing both the children's garden and the accessible garden for the adults. Again this year, with the help of the Master Gardeners group, the gardens will flourish.
---
The summer is full of conferences: RESNA, ISASH, ADED, KARRN, and KY Rehab Association. The KY staff also be speaking to different OT, PT, ag, and other healthcare students, about the assistive technology available to limit the impact of disability on a farmer.
Submitted by Linda Bokros