May 2018
Ohio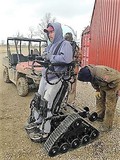 Charlie is a new Ohio AgrAbility client who recently had several life-altering events. He was injured when he fell out of a tree stand while hunting. Charlie was determined to return to his job as a farm manager, so his employer called OAP and asked for a farm visit and assessment to help Charlie get back to work.
OAP staff arranged for Life Essentials and McCabe Outdoors to go to the farm and demonstrate how Charlie could use a flatbed lift and a Trackchair to continue working and being active and independent. Kim McCabe provided quotes for a new and a refurbished Trackchair for Charlie to consider.
His employer contacted Charlie's local hunters' club about the chair, and the club purchased the refurbished chair and loaned the chair to Charlie; he will use the chair until a chair is purchased through Opportunities for Ohioan's with Disabilities (Voc Rehab), or until Charlie purchases his own chair. The refurbished chair will then be leased to Ohio hunters with disabilities. The generosity of the hunters' club will impact Charlie's independence and work life, and will give other hunters with disabilities the opportunity to get out in the woods and fields to hunt.
Submitted by Laura Akgerman