June 2018
California
California AgrAbility conducted a presentation about AgrAbility services for a group of 15 aspiring promotores (lay health workers) at Empower Yolo, a resource center that serves the agricultural community of Woodland. This is the first of a series of presentations that will be brought to this group on the topics of health and agricultural safety. California AgrAbility is part of a committee of community organizations that collaborate to educate promotores on different topics that can help their community members help themselves.
---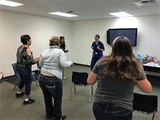 California AgrAbility went to the third Get Moving Arthritis class conducted by Clinica Tepati. California AgrAbility helped create this exercise series for patients with limited mobility to safely exercise. Staff attended this training to review the progress of the class since the start of the new series with the new Get Moving manual. Trainers and participants have given positive reviews and are always excited to attend these classes. Moving forward, exercise sheets will be produced for participants to take home safe exercises with modifications. In addition, staff from Clinica Tepati and California AgrAbility will conduct "train the trainer" workshops to train new leaders for the class.
---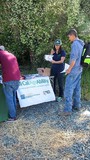 California AgrAbility reached out to around 60 migrant farmworkers along the Delta River. Staff brought resources to teach the farmworkers how to keep working safely through preventative exercises, and information on heat illness and arthritis. Staff met a worker that fell off a ladder. He is currently on medical leave and is expecting to return to work in five weeks. Staff spoke to him about preventing secondary injury during recovery and when he returns to work. They also met a worker that is unable to see while driving at night and at sunrise. Staff will help this worker through the process of getting his eyes checked and obtaining glasses to drive safely.

Submitted by Sara Wat