June 2018
Michigan
Michigan State University's Occupational and Environmental Medicine Division (MSU OEM) has recently compiled its first report on work-related farm injuries in Michigan. The report is based on data for 2015 and 2016. All 134 of Michigan's acute care hospitals, including Veterans' Administration hospitals, were required to report work-related farm injuries. Over the two years combined, there were 1,559 work-related farm injury incidents that represented 1,525 individuals. Injuries caused by cows were the predominant cause of work-related farm injuries and accounted for one third (472; 31.5%) of all injuries. Dairy farms accounted for 39.6% of all cases for which the farm type was recorded by a health care provider. The Work-Related Farm Injuries in Michigan: First Report (January 2015-December 2016) can be accessed here.
---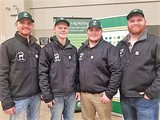 Remember the MSU Alpha Gamma Rho (AGR) Chapter hosted the 5th Annual Beef Preview show in February 2018? Although the show was held during a snowstorm, there were 371 youth exhibitors who brought 584 head of cattle. Michigan AgrAbility thanks Ryan Rash of Crockett, Texas, for donating his time to judge the two-day event. The event brought in over $28,000 and, after expenses were paid, AGR made a $16,000 contribution to Michigan AgrAbility! Michigan AgrAbility sends a heartfelt THANK YOU to AGR for their hard work and their support of AgrAbility! Members of the 2018 AGR Beef Preview Show Planning Committee were, from left, James Parker, Brendan Johnson, Nate Johnson, and Henry Hautau.
---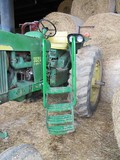 Dan Acre, a Michigan farmer with impairments resulting from arthritis that developed as a youth, reached out to Michigan AgrAbility to assist him in performing the activities necessary to continue operating his dairy farm. Working with Michigan Rehabilitation Services, steps and lifts for his tractors were purchased. In addition, to place knowledge into practice, Michigan AgrAbility continues to work with MSU engineering students to design assistive devices for Michigan farmers. Four students from the MSU Bio-Engineering Department worked on a senior capstone project to design and build one of the step structures for one of Dan's tractors.
Submitted by Deb Chester