June 2018
Missouri
This summer, Missouri AgrAbility is offering an occupational therapy student at Washington University in St. Louis an opportunity to learn more about Missouri's AgrAbility project - especially regarding an OT's role and the rural application of assistive technology. The OT student will also shadow AgrAbility staff and VR case managers while facilitating on-site farmstead assessments.
---
Shon Bishop and K. B. Paul, both Co-PIs from Lincoln University Cooperative Extension, are in the final stages of organizing two, one-day AgrAbility workshops to be offered in the Springfield and Cape Girardeau areas during July. Conference participants will include small farmers, veterans, and urban farmers with disabilities.
---
Andrea Bjornestad, South Dakota State University, Suzanne Pish and Courtney Cuthbertson, both of Michigan State University Extension, Charlotte Shoup Olsen, Kansas State University, and Karen Funkenbusch, Missouri AgrAbility Project, University of Missouri Extension, were invited to present at the 2018 National Association for Rural Mental Health (NARMH) Annual Conference held in New Orleans' French Quarter, August 23-26. Their "Rural Mental Health: Promoting Resilience in Farmers and Ranchers" presentation will be given Saturday, August 25. Information about NARMH Annual conference can be found here.
Submitted by Karen Funkenbusch and Nashon Bishop
---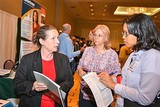 Maureen Cunningham with the Brain Injury Association of Missouri shared information about the Missouri AgrAbility Project (MAP) at the Missouri Rehabilitation Association Conference on May 21, 2018. Attendees of vocational counselors and case managers discussed agriculture options and MAP benefits with Ms. Cunningham at the BIA-MO/MAP exhibit at this conference.
Submitted by Maureen Cunningham