June 2018
Texas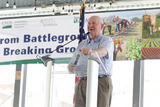 On May 31, U.S. Secretary of Agriculture Sonny Perdue announced a partnership with the Battleground to Breaking Ground Project to streamline eligibility for military veterans to apply for FSA loans.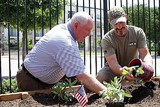 Secretary Perdue visited with Texas AgrAbility clients and veterans at the Dallas Farmers Market where he "planted seeds" for veterans getting started in agriculture. The USDA partnership will offer veterans a unique hands-on education that offers streamlined eligibility for FSA microloans upon completion of the program.
To check out the USDA FSA and Battleground to Breaking Ground click here.
---
On May 4th, Texas AgrAbility hosted a farm tour in Gatesville. Inclement weather prevented attendees from touring the farm in person, but a virtual tour was conducted at a local veteran-owned BBQ restaurant.
Local extension agents Lyle Zoeller and Robert Ferguson conducted some hands-on grass identification and demonstrated how to take a soil and forage sample.
---
A Battleground to Breaking Ground Agriculture Workshop was hosted on May 5 at the Bell County Extension Building. Over 25 veterans and beginning farmers and ranchers were in attendance for the event. Representatives from Texas A&M AgriLife Extension, USDA FSA, USDA NRCS, and the Central Texas Business Resource Center shared about programs and services for veterans and beginning farmers and ranchers.
Submitted by Makenzie McLaurin