June 2018
Vermont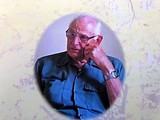 Merton Pike was a Vermont AgrAbility Barn Builder member (a peer-to-peer support group) from the beginning of the VT AgrAbility project. He was a double lower amputee, one below and one above the knee, from a tractor accident in 1971. Merton continued to dairy farm until his passing on April 18, 2018, at the age of 96. He drove tractors & automobiles with hand controls that were designed and created by Merton himself.
Over the years of being involved with AgrAbility, Merton made countless numbers of trips to visit new amputees throughout Vermont as a peer-to-peer mentor. He was a regular member of a Fanny Allen hospital support group called Champutees that met monthly to support patients that were being fitted for prostheses.
He turned the farm over to his son and daughter-in-law, Les and Claire, in 1988 but continued to be an active part of the farm, as did his grandson Dan and granddaughter Suzi.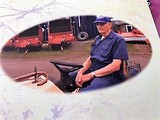 Throughout his farming career after his accident, Merton was involved in: Farm Bureau, as President of the local DHIA, clerk and director of Central Vermont Breeders Association, director of Vermont Sugar Makers Association, nine-year director of Eastern States Farmer's Exchange, council member and director for 18 years of Agway, member and president of Brandon training school, president of the state Retarded [sic] Children's Association, local justice of the peace, member of Stowe Historical Society, town charter commission and town police commission, town conservation committee chair, and as director, president, and director emeritus of Stowe Land Trust
Merton will be greatly missed by his family, AgrAbility, and all the associations that he supported.
Submitted by Tom Younkman