July 2018
California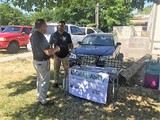 California AgrAbility reached out to 20 families at the Dixon Migrant Center Health Fair. A graduate student from Dr. Fathallah's ergonomics in farming research lab attended the fair with California AgrAbility staff. The student was able to see how research and work led by professors on campus is applied in the community. Other agencies present were Dignity Health, Every Woman Counts, Clinica Tepati, Western Center for Agricultural Health and Safety, Communicare Clinics, and CM Community Health Centers.
---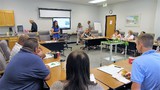 California AgrAbility staff members were invited to present at the Employment Development Department (EDD) in Sutter County. Staff present were from the eligibility and outreach division. Fifteen employees attended the meeting. The presentation featured a success story from a collaboration between California AgrAbility and EDD.
---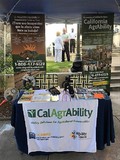 California AgrAbility conducted outreach at the Woodland Farmers Market. This event is an annual event that the farmers market includes with a health fair component. Staff talked to residents about gardening safety tips and demonstrated some assistive gardening tools that would help prevent secondary injuries. Staff met a new client who has goats, chickens, and some row crops.
---
California AgrAbility attended the two-day Environmental Justice: Pesticide Enforcement Workshop hosted by the Department of Pesticide Regulation (DPR). Staff learned about different programs in the DPR that helped them understand whom to contact for specific pesticide problems. The DPR also brought attendees to a farm to witness a mock demonstration of a pesticide inspection. Staff connected with the San Joaquin county commissioner, a safety enforcement officer that has direct and regular contact with farmers and farm workers.
Submitted by Sara Wat