July 2018
Nebraska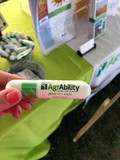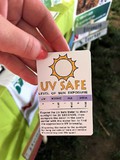 Nebraska AgrAbility staff attended the Cattlemen's Ball in Hebron, Nebraska. The charity mission of Cattlemen's Ball of Nebraska is to raise money for cancer research. Nebraska AgrAbility provided education about skin checks and sun safety, handing out over 500 sunscreen sticks. It was a great event for a worthy cause. See more information here.
---
The Day of Caring in Kearney, NE, provided a venue for staff to educate caregivers about AgrAbility. This second annual Day of Caring was an outreach project of the Nebraska Caregiver Coalition, DHHS, and the Nebraska Lifespan Respite Network. The purpose of the day is to share valuable resource information with family caregivers, providers, and community members, to help them understand the importance of caring for the family caregiver.
---
The Sandhills Ranch Expo was another event where staff reached out to many interested attendees and vendors to promote the AgrAbility program. While there, radio spot interviews on Twister Radio out of Gordon and Valentine, NE, helped get the word out.
---
NE AgrAbility staff attended the annual conference for International Society of Agricultural Safety and Health in Halifax, Nova Scotia, bringing home new contacts and ideas for mental health and suicide prevention education, ATV education enhancement, safety measures, and much more.
Submitted by Susan Harris-Broomfield