August 2018
Ohio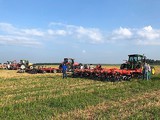 Summertime in Ohio is a good time to build new collaborations and engage in new educational outreach. Ohio AgrAbility Project (OAP) staff have exhibited at Ohio Sheep Day in eastern Ohio, Western Ohio Precision Agriculture Field Day in western Ohio, Manure Science Review in north western Ohio, and the Muck Crops field day in northern Ohio. Attending the field days and reviews has given OAP staff the opportunity to meet Extension educators, OAP clients, state and county officials, equipment vendors, and farmers.
---
OAP shared marketing packets with Extension educators in all 88 Ohio counties. Educators were encouraged to promote OAP services, schedule a workshop or webinar, and display the OAP poster in their offices. The marketing packets included workshop descriptions, a handout with an overview of OAP services, a poster, and a list of the 32 OAP fact sheets available on the website. The packets made a big impact because they were the only item in the county mailers that week (an intended consequence of sending them right after the July 4th holiday).
---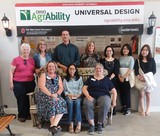 The Universal Design House at the Farm Science Review was the site of a special tour and presentation by OSU Extension's universal design team - FCS educators, professors, a state fire marshal, and Ohio AgrAbility. The event was presented to a group of South Korean researchers who had reached out to OSU Extension about their universal design work. Ohio AgrAbility is responsible for the garage/workshop section of the UD House, and OAP staff presented about modified equipment and assistive technology, UD in the garage, garden, and workshop, and disability inclusion at OSU Extension and in the community.
---
"Modifying a Vehicle for Mobility and Independence" is the title of a presentation that OAP staff are developing with Meredith Sweeney, an occupational therapist from the OSU Wexner Medical Center. Meredith and her team evaluate patients for mobility and driving, train them to drive modified vehicles, and assist them in taking their modified vehicle driving tests. She also works with state vocational rehabilitation and OAP to approve modifications and mobility devices to keep OAP clients driving their vehicles and equipment safely. OAP staff and Meredith plan to present this topic at Farm Science Review in September, and have also submitted it to the Ohio Safety Congress in March (BWC conference).
Submitted by Laura Akgerman