September 2018
Illinois
The AgrAbility Illinois staff members have actively worked over the prior months to prepare for their participation in the Illinois State Fair in August. This included the creation of a new table display showing AgrAbility signage, giveaways for potential clients that included pens and rulers, and a tablet for sharing additional information and photos of adaptive equipment. The team was successful in implementing all these new marketing materials at the Illinois State Fair Ag Day in order to share AgrAbility's services with local industry members and businesses. The community really connected with the new display and the staff members that attended.
---
Kelly Gagnon, the AgrAbility IL communications coordinator, also attended the IL Rural Health Conference. This gave Kelly the opportunity to connect with local medical professionals who have patients that could benefit from adaptive equipment or other support to continue working in agriculture.
---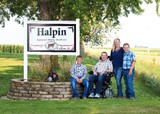 Michael Halpin, an Illinois farmer and AgrAbility Unlimited client, was featured in the local ACES magazine telling his story about the injury he sustained while working on his family farm, his recovery process, and the support that AgrAbility Unlimited was able to provide him thus far on his journey. AgrAbility IL is happy to share his story to help others feel inspired by his desire to continue working despite difficult challenges and by the services AgrAbility can provide in helping to do so.
---
In the continuation of AgrAbility Unlimited's 2018 marketing plan, an "Ambassador of the Month" program was implemented to recognize the organization's most supportive volunteers. The Ambassador of the Month was announced on September 5th on the AgrAbility IL Facebook page.
Submitted by Kelly Gagnon