September 2018
Michigan
Michigan AgrAbility was pleased to assist Chris to continue to do what he loves to do... farm! Chris was born with spina bifida, which has led to other complications including making it difficult for Chris to work on the farm. Michigan AgrAbility partnered with Michigan Rehabilitation Services to purchase a lift, which gives Chris access to any tractor or harvester on his farm. Check out the video on Michigan AgrAbility's YouTube page.
---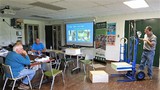 Heroes to Hives is a program through Michigan State University Extension that seeks to address financial and personal wellness of veterans through professional training and community development centered around beekeeping. Veterans leave the Heroes to Hives (H2H) program with a broad knowledge of beekeeping, as well as personal and professional relationships that open up new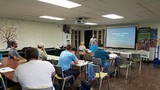 opportunities and ensure long-term peer support. The instructional apiary is housed at the Kellogg Biological Station Bird Sanctuary. Ned Stoller of Michigan AgrAbility gave a workshop on beekeeping ergonomics, and the H2H group came away with some valuable knowledge that will keep them beekeeping for years to come.
---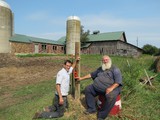 The Michigan AgrAbility program helped install a new spring-loaded gate on the farm of Jeff and Jo Browne, livestock farmers in Menominee County in Michigan's Upper Peninsula. Jeff has severe low-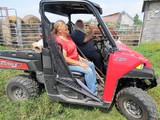 back pain conditions including stenosis and bulging discs which limit his ability to lift, carry, and walk around the farm. The gate helps him to enter the livestock area without causing additional pain. Michigan AgrAbility and the Browne family thank the generous donors who made this possible!
---
Michigan AgrAbility promoted the August 2018 USDA Agricultural Marketing Service (AMS) Commodity Procurement Program interactive webinars on the Michigan AgrAbility Facebook page. The webinars provided information on how to become approved to sell to the USDA Foods program.
---
Duane Bordine, one of Michigan AgrAbility's clients and the cover photo on some of Michigan AgrAbility's brochures, lost his home and a nearby greenhouse in a fire. Duane and Sharon's home and contents were a total loss, as was his new greenhouse and rows of his dahlias. Duane "The Dahlia Man's" supporters at the farmer's market where he sold his flowers established a GoFundMe page for Duane and his wife Sharon to help support them as they try to rebuild their farmstead. Michigan AgrAbility shared the GoFundMe link on Michigan AgrAbility's Facebook page.
Submitted by Deb Chester