October 2018
Illinois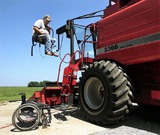 The AgrAbility Unlimited IL staff is extremely excited to announce that RD Elder, a previous client of the program, was recently featured in the Herald & Review.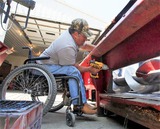 He was given the opportunity to share his story with the community about what it has meant for him being a farmer with a disability and how the support of AgrAbility has helped him regain the independence he has needed to continue working on his family's land. Be sure to find his video in the article!
---
The staff members attended the Illinois State Fair in late August to promote the organization's services with the local community. Recently, the fair announced that attendance was down by 8% compared to last year. The AgrAbility team is happy to report that they still had great success at the event despite this, including more than six potential clients and over 1,000 freshly branded brochures dispersed through the agricultural industry members.
---
Jim Williams, AgrAbility IL's field coordinator, attended Agronomy Day at the University of Illinois in September. There he was able to gain three more potential clients and even referred one to another AgrAbility state project. In November, he is planning to attend the Peoria, IL, Farm Show where he hopes to have similar or better results.
---
The AgrAbility IL's physical therapy consultant, Steve Beasley, recently attended the Illinois Occupational Therapy Association (ILOTA) Conference on behalf of AgrAbility to share the organization's services with Illinois medical professionals who may have patients working in agriculture who could benefit from the program's support. He also had the opportunity to attend several of the educational seminars taking place at the conference to learn about some of the new practices and advancements in the occupational therapy industry in order to better support AgrAbility IL clients in the future.
Submitted by Kelly Gagnon