October 2018
National AgrAbility Project
The AgrAbility National Training Workshop will take place in Lincoln, NE, March 25-28, 2019, at the Embassy Suites -Downtown Lincoln. Planning is coming along; vendor and sponsor applications are available. If anyone needs one, contact Tess. The NTW website is now live at www.agrability.org/ntw.
---
Upcoming AgrAbility Regional Events!
Albuquerque, NM, November 8 - 9, 2018, at the Hilton Garden Inn Albuquerque Uptown. Registration is open!! The cost for the two-day event is $100. This event has been approved by the New Mexico licensure boards for PT and OT, and participants can earn up to 13 CEUs at this event. Click HERE to register. Click HERE to reserve your room.

National AgrAbility Project staff are excited about the sessions being offered at this event, including: how occupational therapists can fit into AgrAbility; effective lighting in agricultural settings; micro-farming; adaptive tools and technology; and worksite assessment. Day two will feature a tour including agriculture businesses focused on employing individuals with developmental disabilities and urban farming along with some integrated worksite assessment instruction.


Mt. Vernon, WA, December 5-6, 2018, at the WSU Northwestern Washington Research & Extension Center. Registration is open!! The cost for this two-day event is $25. Click HERE to register. You can click HERE to reserve a hotel room at the Holiday Inn Express in Burlington, WA.

The Regional Event in Mt. Vernon will focus on introducing the partners involved in working towards getting
Washington AgrAbility started and the activities that they are doing. Those partners are: WSU Skagit County Extension, Northwest Access Fund, Washington Assistive Technology Act Program, Viva Farms, and Patricia Butterfield, Ph.D., RN. There will also be a session on worksite assessment and attendees will hear from Washington Department of Vocational Rehabilitation counselors. A pre-conference tour of some local agricultural sites will also be offered.
Contact us anytime - Tess McKeel - tmckeel@goodwillfingerlakes.org - 585.447.9015 Or JoBeth Rath - jbrath@goodwillfingerlakes.org 585.402.2059
Submitted by Goodwill of the Finger Lakes
---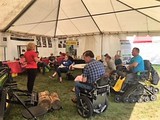 The National AgrAbility Project's assistive technology specialist, Steve Swain, exhibited as a guest of Ohio AgrAbility at the 2018 Ohio Farm Science Review near London, Ohio. The NAP exhibit included an AgrAbility pop-up display and AgrAbility publications. The publications included NAP brochures, AgrAbility Harvest newsletters, 25 Years, 25 Stories, the AgrAbility impact publication, Arthritis and Agriculture, SRAP contacts, and the Gaining Ground and Seedstock reprints. Other exhibitors in the Ohio AgrAbility tent included Life Essentials, Pwr EZ Systems, McCabe Outdoor Mobility, and K&M Manufacturing.
Submitted by Steve Swain
---
The National AgrAbility Project (NAP) will be participating in a collaborative Introduction to AgrAbility workshop on the Pine Ridge Reservation in South Dakota on October 29-30. The workshop will be held at the Prairie Wind Casino/Hotel outside of Pine Ridge. This event is open to all farmers/ranchers with disabilities, as well as to those that support them. The program itself will focus on how existing, new, and prospective tribal farmers with disabilities and other functional limitations can remain or become successful in small-scale farming and gardening.
This workshop has been in preliminary planning stages since last year as part of the NAP's outreach to underserved populations. However, final plans were made after the new South Dakota "TATANKA KI OWETU, The Renewal AgrAbility Project" was announced.
For more information on the Pine Ridge workshop, along with the registration form, click HERE, or contact Nick Ciaramitaro by email at nick.ciaramitaro@sdstate.edu or by phone at 605-842-1267 ext. 205.
---
Chuck Baldwin of the National AgrAbility Project joined Abi Jensen and others from AgrAbility of Wisconsin to staff an AgrAbility booth at the World Dairy Expo (WDE) October 2-6, in Madison, Wisconsin. Chuck was there for Thursday's and Friday's activities. The AgrAbility staff had many opportunities to renew contacts with previous and current AgrAbility clients, and to share the vision and goals of AgrAbility with interested Expo attendees and potential future clients. It is AgrAbility's vision to enhance quality of life for farmers, ranchers, and other agricultural workers with disabilities.
The WDE provides an opportunity to see almost 2,500 head of cattle from across the USA and Canada as they compete in seven breed shows. There are also contests and activities for 4-H, FFA, a youth showmanship contest, a youth fitting contest, and one of the largest contests of its type: the World Dairy Expo Product Championship Contest that evaluates and ranks all types of dairy products. In addition, there is the World Forage Analysis Superbowl that brings the best from across North America to compete in this part of dairy nutrition quality. These are only a part of the events that take place at the WDE.
To give an idea of the size of this Expo, on Wednesday, Oct. 3, the day's attendance was 12, 665, with the international attendance for the first two days being 1,570 from 84 countries. For further information on the World Dairy Expo, see their website at: https://worlddairyexpo.com/
Submitted by Chuck Baldwin
---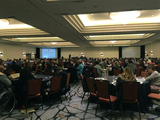 Paul Jones was joined by Candiss Leathers of Colorado AgrAbility, Sierra Royster of APRIL, and Gracie Franklin (daughter of Colorado AgrAbility client Dusty Franklin) for an AgrAbility presentation at the APRIL 2018 Conference in Denver, which ran from October 5-8. Paul presented an overview of AgrAbility plus examples of outreach initiatives for non-traditional growers (including activities from Ohio and Maine AgrAbility); Candy gave an example of how AgrAbility works at the local level; Gracie discussed youth in agriculture from the perspective of a youth in agriculture; and Sierra shared about AgrAbility's ¡partnerships with APRIL and CILs.
The conference boasted approximately 450 participates, and Paul and Candy also staffed a display that received a significant amount of attention. Pictured is the conference opening session.
Submitted by Paul Jones