October 2018
Tennessee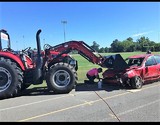 TNAP staff attended the Graves County Ag Safety Day Program and Pep Rally hosted by the Graves County High School FFA Chapter. The morning session was focused on safety stations for high school and middle school students and the afternoon session was the "Pep Rally for Life", a mock accident focused on distracted driving organized by the Graves County High School FFA Chapter and entire student body. Kentucky Department of Agriculture's Farm & Home Safety staff was there for advice. It was a great day to kick off Farm Safety and Health Week.
---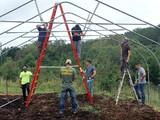 The Trosts, owners of Pokeadot Hops and Garden, had help from USDA/NRCS to start the installation of their greenhouse. Fifteen Marines assisted plus three local wounded warriors. Secretary of Defense General James Mattis called the Marines to personally thank them. Stephanie Trost says he is a strong supporter of the wounded warriors and post traumatic growth.
---
"Together We Grow Extension" - Thank you to Lauren Vath and UTIA for the amazing video and featuring our programs! Together, we can impact tomorrow. Staff are proud of Keith Bridges and Josh Pennington for being great spokespersons! They are TN AgrAbility farmers, TN beginning farmers, Farmer Veteran Coalition of TN members, and recent graduates of East TN New Farmer Academy.
Submitted by Tennessee AgrAbility Project