March 2019
California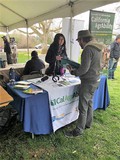 California AgrAbility staff attended the California Small Farms Conference in Davis, CA. Staff networked with small-scale farms, family farmers, and exhibitors. Around 20 workshops were held with topics including food safety, successful marketing programs, and Korean natural farming. Niche farming continues to gain ground with California farmers. Other exhibitors attended, including Farmer Veteran Coalition, USDA, Market Match, and UCANR. Staff informed conference participants about methods to farm safely and assistive tools that are available.
---
Staff attended the Western Center for Agricultural Health and Safety seminar on environmental factors affecting inflammation and lung health presented by Dr. Tara Nordgren. Her study was based on farms in the Midwest where she found a correlation between working on the farm, asthma, and the worker's diet. Working on the farm increases the farmers risk for asthma or other chronic lung diseases due to dust. She also found that diet had an impact. Omega-3s play a crucial part in reducing inflammation. Her study found that workers had a diet that did not contain enough Omega-3s, which led to prolonged inflammation and chronic respiratory illnesses. She recommended that farmers and farmworkers exposed to dust include foods such as salmon, sardines, and flax seeds in their diet.
---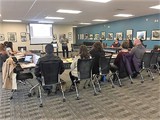 California AgrAbility was invited to join the Ventanilla de Salud Providers Meeting at the Mexican Consulate in Sacramento. The health programs wing partners with the Health Education Council to provide health and information tools and services to Mexican and other Latin American community members. California AgrAbility was invited to join the mobile consulates to reach out to the 24 Northern California counties served by the Sacramento consulate. Other providers in attendance included representatives from Santa Cruz Dental Office, UC Davis MIND Institute, Better Health of California, Sacramento Covered, El Hogar Community Incorporated, Alzheimer's Association, and Communicare.
---
California AgrAbility staff attended a seminar with Professor David Reinkensmeyer from the University of California, Irvine. He presented on robotic and wearable sensing technologies for movement rehabilitation after neurologic injuries such as stroke. Some of these devices are already in use at rehabilitation facilities. He noticed that patients improved tremendously with high assist games or engaging activities that helped the patient perform the muscle movement in repetitions. Professor Reinkensmeyer also designed a device that encouraged repetitive finger movement leading to a better recovery time in those patients.
Submitted by Sara Wat