March 2019
Georgia
February 7 and 14, Georgia AgrAbility staff attended and presented at the FFA Young Farmers meetings at West and East Laurens High School. The presentation included a general information session about AgrAbility in Georgia and a section showcasing the various types of assistive technology being used by Georgia farmers around the state. Around 50 farmers and family members from Laurens County attended the two meetings.
---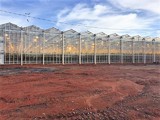 Georgia AgrAbility staff attended the Georgia Grown Symposium in Macon, Georgia, February 12-13 to learn how AgrAbility clients can join Georgia Grown to become more competitive in the market for locally produced items. Staff brought back valuable information for their clients on how to expand their agritourism operations while staying compliant with state and federal regulations. The event included networking with state agriculture officials, farmers, industry suppliers, and state ADA architects. At this event, staff also had the wonderful opportunity to tour the brand-new Pure Flavor 75-acre greenhouse that is investing $105 million dollars in the middle Georgia area to grow tomatoes and cucumbers year-round.
---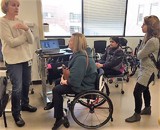 The Shepherd Center, Georgia AgrAbility's nonprofit partner, hosted the monthly staff meeting February 25 for Georgia AgrAbility. At this meeting, staff were fortunate to be given a tour of the world-renowned rehabilitation hospital. On the tour, staff were able to see therapists in action assisting patients in the rehabilitation process. They also received a demonstration on pressure seat mapping and were able to try out new products in the assistive technology lab.
Submitted by Rebecca Brightwell