March 2019
Michigan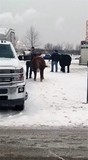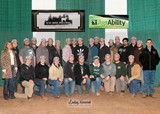 February in Michigan always poses some weather challenges. Weather again made travel to the 6th annual MSU AGR Beef Preview show, organized and sponsored by the brothers of MSU Alpha Gamma Rho Tau to support Michigan AgrAbility, difficult but the great men of AGR Tau were up to the challenge! The Preview show was held Feb 8-10. This year was the first year that they had two judging rings. A big round of thanks to MSU AGR Tau for holding this uber-successful AgrAbility fundraiser; to AGR Beef Preview co-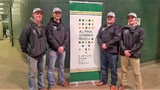 chairs Brenden Johnson, James Parker, Nathan Johnson, and Jason Lyon; to Mark Johnson from Nebraska and Torie Schwartz from Oklahoma for judging; and to Lindsay Hanewich for being both the photographer and judge for the junior showmanship division. Check out her watermarked photographs of the Preview Show on her website in the folder 2019 Michigan AGR East Lansing MI. Michigan AgrAbility thanks each and every individual involved in this event, including the families who participate, for their time and support of Michigan AgrAbility. This fundraising event raised close to $20,000 for Michigan AgrAbility!!!!
---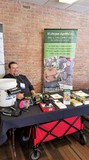 Aaron Fenrich, a Michigan AgrAbility client and Michigan AgrAbility's Farmer Review Panel member, staffed the Michigan AgrAbility Booth at the 16th annual Michigan Food & Farming Systems (MIFFS) Michigan Family Farms Conference at Kalamazoo Valley Community College. This conference offered beginning, small-scale, and culturally diverse farmers an opportunity to network, learn, and build sustainable family farms. Just under 400 attendees from across the state attended this hands-on event featuring seven tracks of breakout sessions, including a youth track to engage the whole family.
---

Sharing stories of success and hope to motivate others to initiate positive changes in their lives is one of the many Michigan AgrAbility outreach endeavors. On the Michigan AgrAbility Facebook page, staff shared AgrAbility Illinois's post about Maine AgrAbility's 2018 e-note story of Ron Harwood and how Clayton Homes partners with Hope for the Warriors, highlighting the story of Army Captain Michael Trost, who was injured in battle and now is a successful hops grower in Tennessee.
Submitted by Deb Chester