April 2019
Missouri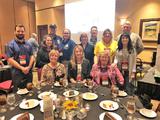 Missouri AgrAbility farmers, staff members, and specialists from Division of Vocational Rehabilitation enjoyed attending the 2019 National AgrAbility Training Workshop hosted by Nebraska AgrAbility. Teresa Dove, Susan Butterfield, Alda and Rick Owen, along with Carey Portell, appreciated NAP sponsorship of Missouri farmers to attend the 2019 NTW in Lincoln, Nebraska. Thank you, Nebraska AgrAbility and NAP, for an awesome conference!
---
During opening session of the NTW, Karen Funkenbusch presented a poster about Missouri's Beginning Farmers and Ranchers collaborative outreach efforts with Missouri AgrAbility, Brain Injury Association of Missouri, and the Franciscan Sisters of Our Lady of Perpetual Help. She highlighted ways in which Missouri is helping beginning farmers, veteran farmers, underserved farmers, women in agriculture, and farmers with disabilities scale up their operation by assisting them through FREE training opportunities such as face-to-face workshops, eight-week courses, on-the-farm learning circles, walkabouts, and hands-on demonstrations. Funkenbusch also facilitated the "Working with State and National Beginning Farmers and Ranchers Development Grant Programs-Panel Discussion" with Tennessee AgrAbility, Texas AgrAbility, and a nonprofit perspective from the Brain Injury Association of Missouri.
Submitted by Karen Funkenbusch, MU Extension
---
---

Missouri's following is ever growing and, as of March 31, their post reach on Facebook was 3,386, their Tweets earned 3,200 impressions and their Instagram post had 936 impressions. Check out Missouri AgrAbility on Facebook, Twitter and Instagram @MOAgrAbility.
Submitted by Tevin Uthlaut
---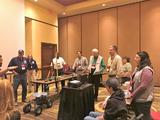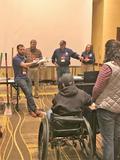 Lincoln University's Innovative Small Farmer's Outreach Program (ISFOP), a Missouri AgrAbility partner, in collaboration with the University of Missouri, had the privilege of presenting at the 2019 National AgrAbility Training Workshop (NTW) in Lincoln Nebraska. Using the Jesup Wagon Outreach Method, Mr. David Middleton - ISFOP farm outreach worker (FOW), Mrs. Susan Jaster - ISFOP FOW and Mr. Nahshon Bishop - ISFOP small farm specialist, highlighted modern agricultural tools and research-based information to educate conference attendee's about:
Who is Lincoln and what is ISFOP?
What does "ergonomic" mean and why does it matter to you?
How to identify ergonomic tools
Principles of safe body positions
Work gloves? Yes, Please!!
Submitted by: Shon Bishop
---
University of Missouri-Kansas City School of Pharmacy, a Missouri AgrAbility partner, is offering an inaugural elective in collaboration with the University of Iowa's Great Plains Center for Agricultural Health, titled "Rural Health & Agromedicine" to 12 student pharmacists enrolled at the Columbia, Kansas City, and Springfield locations this semester. Karen Funkenbusch, Extension assistant professional and director of Missouri AgrAbility, shared her expertise with the class and oriented them with ergonomic considerations for agriculture as well as Missouri AgrAbility and Pharm to Farm resources.
Submitted by Kelly Cochran
---
Brain Injury Fact of the Day sponsored by Missouri AgrAbility was implemented with a new approach of advertising on agriculture, healthcare, rehabilitation, and media websites. The results: more than 4,000 views to the BIA-MO website during the month of March, including the Brain Injury Fact of the Day page of the website. This is an increase of 750 views in one month.
---
The Brain Injury Association of Missouri (BIA-MO) hosted its quarterly Professional Networking Coffee in St. Louis on March 5 to share information and resources, including the Missouri AgrAbility Project. Alyssa Grese, BIA-MO program associate, shared AgrAbility information with 15 healthcare and rehabilitation providers who serve individuals with brain injury during this Missouri AgrAbility networking activity.
---
The BIA-MO Annual Survivor and Family Regional Seminar featured the Missouri AgrAbility Project at the BIA-MO exhibit booth with partnership recognition. This seminar was held in Springfield, Missouri, on March 23, with approximately 100 individuals from rural Missouri learning about options for farming and ranching through this AgrAbility marketing activity.
---
Maureen Cunningham, BIA-MO executive director, served on the planning committee for the AgrAbility NTW in Lincoln, Nebraska, and attended March 25 - 28. Ms. Cunningham participated in the "Working with State & National Beginning Farmers and Ranchers Development Grant Programs" panel discussion and shared her perspective as a nonprofit partner for the Missouri Beginning Farmer Rancher Development Program.
---
Missouri AgrAbility Project and Brain Injury Association of Missouri information was shared at the Mercy Springfield "Maximizing Function with Brain Injury Conference" on March 30. BIA-MO volunteer, Terry Hudson, OT, CBIS, discussed these services with other healthcare and rehabilitation professionals who serve southwest rural Missouri.
Submitted by Maureen Cunningham