April 2019
Tennessee
A BIG THANK YOU to NTW hosts, Nebraska AgrAbility, Jo Beth, Tess, and NAP, for another great conference! Staff made new friends and enjoyed their annual visits with colleagues. TNAP is always inspired and refreshed after attending NTW and comes away with new knowledge to help farmers with disabilities.
---
Tennessee celebrated Extension Month with various open houses and handouts about TNAP services. TNAP wrote an inclusion scenario related to someone with a disability for a 4-H workshop. Participants learned ways that they can include underrepresented groups. To link to the fact sheet that was handed out, click here.
And it included this link.
---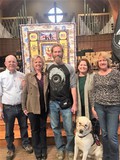 Thank you to Smoky Mountain Service Dogs for a beautiful "Passing of the Leash" ceremony and all they do for veterans! Charley Jordan, TN farmer veteran consultant, and TN AgrAbility have a new family member... meet Dagger. He is the 30th service dog with SMSD.
---
The sixth New Farmer Academy (Middle and East) started in March with 50 beginning farmers with one farmer from as far away as Chicago. East TN New Farmer Academy had 35 beginning farmers and transitioning veterans. TNAP presented some assistive technology and the FVC of TN.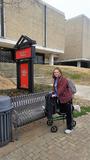 ---
Caitlyn Watts, a student at Arkansas State, Tennessee resident, and a veterinary medicine major, broke her ankle playing basketball three weeks into the spring semester. TNAP was able to purchase her a KneeRover so she could continue to attend classes. Arkansas State provided golf cart transportation from dorm to classes and back. The only problem TNAP could not fix was that there was a fire alarm that kept malfunctioning, and Caitlyn lives on the eighth floor.
Submitted by Tennessee AgrAbility Project (TNAP)