January 2011
National AgrAbility Project News
Mark your calendars for the next AgrAbility all-staff call Thursday, February 17 at 3:00 p.m. EST, 2:00 p.m. CST, 1:00 p.m. MST, 12:00 p.m. PST.
The new AgrAbility video has been completed as is available for viewing at http://www.youtube.com/watch?v=N2aB5ES0kto. Information about ordering copies is slated to be sent to the AgrAbility listserv soon.
Printed copies of Evaluating Agricultural Workplace Assistive Technology for Secondary Injury Hazards are now available for $7 per copy plus shipping. Contact Paul Jones at jonesp@purdue.edu to order.
Are you planning to attend the AOTA Annual Conference in Philadelphia this April? If so, the NAP would like to talk with about helping to set up and staff a display in exchange for paying your registration fee. Contact Paul Jones at jonesp@purdue.edu for more information.
The deadline for SRAP success stories for the AgrAbility 20-Year Summary is February 1. Please email your story, 100 words or less with a high resolution picture, to Kylie Hendress at khendres@purdue.edu.
The AgrAbility Webinar Series presents, Emergency Preparedness for Farmers, Ranchers and other Rural Residents with Disabilities, February 24, 2011 at 3:00 p.m. EST. more
Registration is open for the Northwest AgrAbility Workshop in Corvallis Oregon on the campus of Oregon State University February 24-25, 2011. more
Plans for the 2011 National Training Workshop are well underway. more
Remember to check out the NAP Facebook and YouTube websites.
The Arthritis, Agriculture, and Rural Life: State of the Art Research, Practices, and Applications conference in West Lafayette, IN, May 11-13, is designed for professionals from rural areas to learn how to help clients with arthritis. more
Click here for the schedule of upcoming Community of Interest and Standing Committee call information.
State and Regional AgrAbility Project News
Vermont
Vermont is cold and frosty but the Vermont Center for Independent Living AgrAbility staff has been warm as toast as they progress on all kinds of new projects.
We now have 18 Barn Builders and a plan for an AgrAbility Outpost in the far Northeast section of this rural state.
Vermont Agrability's VCIL staff will meet with Granite State IL this month to formalize agreements.
Tom Younkman met the new Vermont Secretary of Agriculture this week at the State House and a longer meeting will take place in the very near future.
Vermont Agrability continues to provide peer support to farmers in Vermont, but now offers service to a small population in New Hampshire as well.
The Barre Vermont Farm Show at the end of January is the area's biggest event in the winter and the staff looks forward to meeting hundreds of farmers as they look at the newest farm equipment and go to their association meetings.
On February 8, one of the support groups will hold a Beat the Winter Blues Workshop in Morrisville, VT, including a felting class and a talk by Dr. Mark Kaufman Ph.D. from VCIL on Seasonal Affective Disorder (SAD).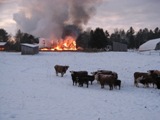 On a personal note, I want to thank everyone who sent notes of encouragement after our barn fire December 18th. more
Oklahoma
Oklahoma AgrAbility was granted $12,000 to do an initial needs assessment to gather data to help further determine the status and impact of disability on farmers, ranchers and families. more
Last Spring, Oklahoma AgrAbility invited Family and Consumer Science educators to attend Self Help Arthritis leader Training, and as a result eight FCS educators have held 6 classes, with 50 participants across the last quarter to showcase the Self-Help Arthritis program.
Ohio
Ohio AgrAbility continues to provide recommendations to clients for solving problems in winter weather conditions and making efforts to prevent secondary injuries while working in ice, snow, and cold.
Ohio AgrAbility is in the process of planning a tri-county Arthritis in Agriculture workshop in March. more
Missouri
Jackie Allenbrand attended a networking event on December 2 with other service providers in the nine counties that MERIL serves. more
Trisa Nickoley and Don Schuster staffed an AgrAbility booth at the Vernon County Extension Center Open House with 154 attendees. more
Bob Schultheis, Natural Resource Engineering Specialist/CPD University of Missouri Extension Center, Webster County and Angie Fletcher, Douglas County Program Director Human Development Specialist facilitate AgrAbility questions, disseminate information and resource materials, and refer local farmers and ranchers with disabilities to the AgrAbility Program and social service agencies for assistance.
Russell Ramsey, volunteer farmer, continues to lead Missouri's effort to formalize a statewide AgrAbility volunteer peer support and caregiver network. more
Russell and AgrAbility staff members also continue to work on Missouri's "Volunteer Peer Support and Caregivers Barn Builders" publication. more
Willard Downs continues to solicit outside funding to support the Missouri AgrAbility Project from various foundations, social service agencies, and corporate avenues.
Trisa Nickoley and Karen Funkenbusch developed an AgrAbility Fitness for Farmers display and Fitness for Farmers fact sheet. more
Karen Funkenbusch attended a seminar by the University of Missouri Office of Disabilities Services and Vocational Rehabilitation. more

Volunteer master gardeners continue presenting the AgrAbility Gardens for Every Body Program to the public throughout rural Missouri. more
Don Schuster conducted three new client on-site farm assessments throughout mid-Missouri with four more potential on-site visits to be scheduled. more
Indiana
Steve Swain, ATP, the Rural Rehabilitation Specialist for the Indiana Agrability Project, presented a session for the fall 2010 Hancock County Master Gardener class on Gardening for People with Disabilities or Those of us Getting Older. more
The Indiana AgrAbility Project exhibited at the 2010 Indiana-Illinois Power Machinery Show at the Indiana State Fairgrounds in Indianapolis December 14-16, 2010. more
The Bridging Horizons Community Service Contest was re-launched at the beginning of January. more
AgrAbility in the News
Click here for news stories featuring AgrAbility projects.
Farm Accident Survivor Promotes AgrAbility
Visually Impaired Farmer Gets Special Holiday Gift: New Four-Wheel Farm Vehicle
Northwest AgrAbility Workshop
AgrAbility Workshops Set in February
Workshop for Disabled Farmers and Ranchers
Arapahoe County Hosts AgrAbility Workshop for Disabled Farmers and Ranchers
AgrAbility Workshops Offered
Other News
Click here for other news of interest to AgrAbility staff members.
Entrepreneurs with Disabilities Launch Nearly 50 Businesses in Central New York
Disabled Boaters Links
Upcoming Events
Click here for professional development events related to AgrAbility.
Problems? Contact Clifford Racz, National AgrAbility Project, racz@purdue.edu