April 2014
National AgrAbility Project News
Thank you to all who attended the 2014 AgrAbility National Training Workshop. more
Last call: the AgrAbility Annual Staff Needs Assessment survey, administered by Bob Aherin at the University of Illinois, will be closed on April 16. Provide your input here.
AgrAbility Webinar Series: save the date for Arthritis and Obesity on Tuesday, May 27 at 2:00 p.m. EDT with Dr. Stephen Messier of Wake Forest University.

BACK on the Farm, BACK in the Saddle: A Guide to Back Health in Agriculture is now available. Print copies may be requested from the NAP, and an electronic version is scheduled to be posted on the NAP website soon.
The 2014 AgrAbility Harvest is now posted on the NAP website. view
RESNA Annual Conference registration is now open. Early bird registration ends May 10. Join AgrAbility for a pre-conference session on AT & Safety in Agriculturally-Related Workplaces. more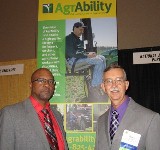 Chuck Baldwin attended the Minorities in Agriculture, Natural Resources and Related Sciences (MANRRS) conference in Birmingham, Alabama, March 27-28. more
The NAP website now lists recent additions to the Toolbox.
Click here for the schedule of upcoming Community of Interest and Standing Committee call information.
State and Regional AgrAbility Project News
California
CalAg staffed a booth at the annual Viva la Vida Farmworker Conference in Esparto, CA. more
Staff met with a client in Madera, CA in March. He is a beginning almond farmer and has over 20 years of farming experience. more
Five bilingual, English and Spanish Get Moving arthritis exercise classes were conducted in the month of March. more
Staff is attending a six-week training, Tomando Control de su salud (Taking Control of Your Health) sponsored by Dignity Health and Woodland Healthcare. more
Staff closed two successful cases. Both consumers needed eyeglasses and staff was able to set up appointments for them at a local Lenscrafters through the One Sight Vision Program. more
CalAgrAbility continues to use twitter.
Indiana
Linda Tarr, coordinator in southern Indiana, attended the Indiana Farm Bureau Spring Conference and had a booth at their trade show. more
Hoosier Uplands staff have been educated about AgrAbility and disability
month with letters to all staff and presentations to the wellness committee and home health staff. more
Maine
Maine AgrAbility was well-represented at the NTW in Lexington, KY. more
Minnesota
The Minnesota AgrAbility Project held its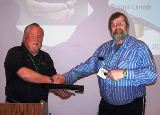 annual Fence Line Conference on March 16-17 in St. Cloud, Minnesota. more
Missouri
Missouri farmers, ranchers, agricultural workers, and livestock handlers with amputations participated in the NIDRR prostheses survey, Assessing and Responding to the Prosthetics Needs of Farmers and Ranchers. more
Missouri as an affiliate state-level AgrAbility project facilitated several outreach activities and educational programs during the month of March. more
Staff from the Innovative Small Farmers Outreach Program (ISFOP) continued to partner with the MO AgrAbility Project. more
Pharmacy students at the University of Missouri provided health, wellness, and quality life of outreach activities and the safe use of medications educational programs. more
Extension AgrAbility staff members and several Missouri Barn Builders (farmers with disabilities) worked with Alex Davis, junior at Trenton High School, to help him prepare his FFA speech about AgrAbility.
Extension AgrAbility staff members participated in A Family Member's Guide to Coping with Traumatic Brain Injury (TBI) webinar. more
Extension AgrAbility staff members also participated in the Army OneSource Resource Center web event Funding Opportunities for Agencies Serving Military Populations. more
AgrAbility staff members Maureen Cunningham, Jon Sabala, and Karen Funkenbusch participated in the monthly MOBHA Alliance teleconference. more
BIA-MO Brain Injury Awareness Day was celebrated on Tuesday, March 25 at the Missouri State Capitol, House Hearing Room 2. more
Several BIA-MO Sports Concussions: Facts, Fallacies and New Frontiers educational seminars also took place during the month of March. more
Maureen Cunningham and Karen Funkenbusch also facilitated an interview on concussions for Ozarks Farm and Neighbor about 4H & FFA youth living and working in rural agricultural communities.
Nebraska
An additional four peers were trained this month to serve new AgrAbility clients and network for the project. more
North Carolina
NC AgrAbility participated in the Nash County Farm Bureau Farm Safety Day, sharing information about AgrAbility services, resources, and tools that may be of assistance on the farm in Nashville, NC on March 19.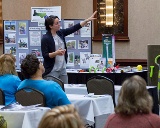 Project Coordinator Michele Proctor presented NC AgrAbility's Work Smarter, Not Harder interactive curriculum at the 2014 North Carolina Farm Bureau Women's Conference in Durham, NC on March 25. more
The NC Agromedicine Institute completed the 2014 NC Agricultural Medicine Core Course in Greenville, NC. more
NC AgrAbility would like to thank Nick Turkas of Arthritis Foundation-Mid Atlantic, Mary Hildebrand of ECU Occupational Therapy, and John Carzoli of Western Carolina University Physical Therapy for their assistance on the NAP working group to develop the new back impairment resource.
Due to adverse weather, the March 19 training in Kannapolis has been rescheduled for May 30. more
Ohio
Ohio AgrAbility Project shared the AgrAbility message with the Ashtabula County Technical and Career Campus Horticulture class at their Jefferson, Ohio campus on March 14. more
The Ohio AgrAbility Project officially initiated the Multiple Chemical Sensitivity (MCS) peer to peer group for farmers in Ohio who suffer from this complex malady. more
On March 4, the AG4ag program will have delivered a trailer mounted lift to an OAP member at Sunset Stables and a Life Essentials Mobility Scooter to an OAP member at Cornwell Farms in Arlington, Ohio. more
West Virginia
West Virginia AgrAbility staff attended the 2014 AgrAbility National Training Workshop from March 31-April 3 in Lexington, Kentucky.
Join West Virginia AgrAbility staff for exhibits, tractors and equipment, feeds and feed additives, cattle handling equipment, and more at the Jackson's Mill State 4-H Conference Center in Weston, West Virginia. more
During the month of March, West Virginia AgrAbility staff visited Jackson and Berkley Counties to demonstrate the use of assistive technologies, specifically the use of a hand cycle. more
AgrAbility staff visited farmers in Mineral, Clay, and Hampshire Counties with fibromyalgia and chronic fatigue syndrome, arthritis and degenerative joint disease, COPD, asthma, and a broken neck. more
Staff Changes
Nebraska
Please say hello to Kenny Jurgens, new rural rehabilitation specialist for the Nebraska project. Kenny just started, with the NTW being one of his first few days on the job. A full introduction will be in next month's e-Note.
AgrAbility in the News
Click here for news stories featuring AgrAbility projects.
Area Farm Growing Opportunities
UI Researcher Using Skill, Will to Prevent Farm Accidents Like His
21st Annual AgrAbility Conference Looks to Keep Disabled Farmers in the Fields
Helping Veterans, Producers with Disabilities: Texas AgrAbility Reaches Out to Assist Farmers and Ranchers Remain on Their Land
Battleground to Breaking Ground Agricultural Workshop Slated for May 17 in Belton
Injured Photographer Rediscovers How to Make Things Click
Other News
Click here for other news of interest to AgrAbility staff members.
Tooling Around
FSA Celebrates American Agriculture Producers on National Ag Day March 25th
Preventing Traumatic Brain Injuries
Why Vacationing on a Farm Isn't as Weird as It Sounds
Indoor Ag Conference Slated for May 14-15
Upcoming Events
Click here for professional development events related to AgrAbility
.
Problems? Contact Clifford Racz, National AgrAbility Project, racz@purdue.edu