April 2012
National AgrAbility Project News
AgrAbility All-Staff Call, April 19 at 3:00 EDT, 2:00 CDT, 1:00 MDT, 12:00 PDT. Join us at 866-803-2444 for an update on AgrAbility activities and a discussion of rural mental/behavioral health issues with Mike Rosmann of AgriWellness.
Registration is open for the upcoming May 15-17 workshop, "AgrAbility: Creating Opportunities for Veterans and other Agriculture Workers with Disabilities." more
The 5-minute version of AgrAbility: It's About Hope is now available on DVD. Contact Paul Jones jonesp@purdue.edu for information on ordering.
AgrAbility radio PSAs (30- and 60-second versions) are now available. Contact Paul Jones to receive a sample.
A web-friendly, screen-reader accessible version of the NAP brochure is available online via http://agrability.org/About-AgrAbility/about.cfm, or http://agrability.org/Documents/AgrAbility_brochure_accessible_PDF.pdf
Amber Wolfe participated in the 2012 National Women in Agriculture Educators conference in Memphis, Tennessee March 28-29. more
Amber  conducted a free community-based educational workshop on arthritis and agriculture in Montgomery, Alabama on April 5. more
Click here for the schedule of upcoming Community of Interest and Standing Committee call information.
Toolbox Spotlight
See what's new in The Toolbox online this month.
Included are homemade fence tighteners, an alert system for people with hearing impairments, and a cattle turret gate system, among others.
State and Regional AgrAbility Project News
California
California staff have been preparing for several new consumers, post-9/11 and other veterans, who have been referred by various agencies. more
As the agricultural season kicks in, many organizations plan events for the influx of seasonal employees. more
CalAg was also represented at the state diabetes conference in Sacramento as well as the annual Almond Festival in Capay Valley. more
Colorado
Colorado AgrAbility staff were invited to be the featured speakers at March's meeting of the Migrant Coalition, an interdisciplinary team addressing issues related to southern Colorado's seasonal workers, in La Junta, Colorado.
Colorado State University's Ag Adventure program included an AgrAbility station at the recent Four States Ag Expo in Cortez, Colorado. more
AgrAbility staff manned a booth at a rural 9Health Fair. more
Indiana
Steve Swain, the Indiana AgrAbility rural rehabilitation specialist, spoke at two gardening clinics within the last month, including the Annual Spring Garden Clinic hosted by the Purdue University Extension Capital City Garden Project. more
The second presentation was for the Wabash Valley Master Gardener Clinic at Saint Mary-of-the-Woods College north of Terre Haute, Indiana. more
Amber Wolfe was the keynote speaker for the Hendricks County Rotary Farmer Appreciation Luncheon in Danville, Indiana on March 8, and was also the featured speaker at the Lafayette Extension Homemakers meeting that same evening. more
The Arthritis Foundation-Indiana hosted an educational display at the St. Vincent Healthy Aging Conference in Carmel, Indiana on March 16. more
Linda Tarr conducted AgrAbility presentations for Indiana Area 7 Agency on Aging, WILL Center for Independent Living, and Vigo County USDA Service Center. more
Kansas
Veterans returning to or expanding their farm enterprises were the target audience for Veteran Farmer Workshops held in Nebraska and Kansas, with funding from a USDA Risk Management Agency grant received by the Center for Rural Affairs (CFRA) in Nebraska. more
Kentucky
The KY AgrAbility team educated visitors to the National Farm Machinery Show held in Louisville, KY on February 15–18. more
Kentucky AgrAbility, Kentucky State Office of Vocational Rehabilitation, and the Human Development Institute will be hosting the annual Assistive Technology Workshop at the Kentucky State University Research Farm in Frankfort June 13-14. more
John Hancock will be at a booth in Indianapolis during the AOTA Conference April 26–29 representing the KY AgrAbility Project. more
Maine
Maine AgrAbility staff presented at the farm safety portion of the New Farmer Series for Androscoggin and Sagadahoc counties. more
Maine AgrAbility met with their Advisory Council to discuss barriers, opportunities, and ideas in working with and reaching out to veterans. more
Minnesota
The Minnesota AgrAbility Project held its annual Fence Line Conference on March 18-19 in St. Cloud, Minnesota. more
A new Action Track Chair was demonstrated at the conference and will be available soon. more
The Minnesota AgrAbility Project hosted a booth at the 30th Annual AgriNews Farm Show at the Graham Arena located in Rochester, Minnesota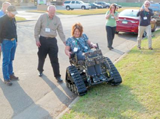 . more
The Minnesota AgrAbility Project hosted a booth at the Central Minnesota Farm Show at the St. Cloud Rivers Edge Convention Center, located in St. Cloud, Minnesota. more
Missouri
University of Missouri Extension AgrAbility staff attended and showcased at the Small Farm and Limited Resource Conference in Jefferson City, Missouri. more
Taylor McMillan, Master of Occupational Therapy at the University of Missouri, Level 2 Field Work, presented an AgrAbility program to occupational and physical therapy staff at Saint Francis Medical Center. more
Lake Area master gardeners and staff from Services for Independent Living made four AgrAbility & Gardens for Every Body presentations to rural gardeners and persons with disabilities interested in learning about small acre, accessible, and green house gardening. more
Alda Owen, volunteer farmer, and Jackie Allenbrand recorded a radio spot for Q Country 92.7, marketing AgrAbility and MERIL in NW Missouri. more
PHARM Dog placed a dog trained for service skills with Bruce Trammell in Caldwell County. more
Jackie Allenbrand also attended several events, including the Ag Division Chamber of Commerce monthly meeting, a Farm-City Breakfast in St. Joseph with Chris Chinn of Chinn Family Farms as the featured speaker, and a MERIL staff meeting where she reported on the successful dog placement.
Nebraska
AgrAbility Peers who have been trained in the past three years gathered to provide input for the Nebraska Peer-to-Peer Program and share updates. more
Eleven AgrAbility clients took part in the 2012 Peer-to-Peer Training held March 5-6 in Kearney, Nebraska. more
On March 3, Easter Seals Nebraska held its annual fundraiser, the Wine Event. more
Ohio
Ohio AgrAbility has been busy conducting "Arthritis in Ag" and "Gardening with Arthritis" in the state. more
Oklahoma
Oklahoma celebrated its 10th anniversary as a state project on March 26 at AgrAbility Day at the Capitol. more
Cooperative Extension educators continue to attend the recorded professional core training on AgrAbility. more
AgrAbility was mentioned in 29 articles across the state promoting the Oklahoma AgrAbility Project, their sponsorship of an Oklahoma Geriatric Education Center conference, and Oklahoma AgrAbility Day at the Capitol.
Lessons were presented by AgrAbility staff on OK AgrAbility Project at OK DRS Academy and on "Gardening with Ease" at four district Oklahoma Home and Community Educators meetings.
An OCES agricultural Extension educator conducted gardening with assistive technology in OK AgrAbility promotional workshops in 3 counties, with 26 total attending.
Arthritis Foundation Exercise classes were held by OK Cooperative Extension educators in Jefferson and Seminole Counties, reaching 75 participants.
Vermont
The Vermont sugar makers have had a wonderful Maple Open House Weekend, but a poor production year making less than 50% of their usual yield because of the high daytime temperatures of 80 degrees that made maple trees dry up and bud out early. more
Farm Safe VT Facebook has reached the 1100 friends mark. more
VT AgrAbility attended the 2012 New Hampshire Dairy Management Conference making contacts with the AgrAbility Without Borders project. more
VCIL AgrAbility Specialist Janis Moore has started a TBI support group for farmers and returning veterans in White River Junction, which is dab smack in the middle of the state. more
VT AgrAbility staffed an education and networking booth at the Northeast Organic Farming Association (NOFA VT) annual conference. more
West Virginia
Warm weather brought one West Virginia farmer more than just hay to cut and birthing cows this spring with help from the West Virginia Division of Rehabilitation Services (DRS). more
Wyoming
On March 8, Wyoming AgrAbility recognized National Agriculture Day with a tabling event in the University of Wyoming Union. more
Staff Changes
Indiana/NAP
Welcome Kenzie Raelynn Hendress, daughter of Nick and Kylie Hendress, born March 21 at 7:54 am 6 lb 5 oz and 19.75". All are doing fine, though the Indiana/NAP teams could use a little extra help right now.
Maine
Maine AgrAbility Coordinator Bettina Voigt will be leaving at the end of April to go back to school full time to pursue a degree in nursing. She has thoroughly enjoyed working with everyone, from the SRAPs to the NAP!
Wyoming
Mary Fick-Monteith, who served as the assistive technology specialist for Wyoming AgrAbility, has left the project. We thank Mary for her strong dedication to the project. Alyssa Newcomb, assistive technology specialist for WIND assistive technology resources (WATR), will now handle the assistive technology component of Wyoming AgrAbility. Welcome Alyssa.
AgrAbility in the News
Click here for news stories featuring AgrAbility projects.
Helping Farmers with Disabilities
Service Dog Helps Farmer Get Back to Work after Brain Injury
Coalition Helps Veterans Defend that "Thin Green Line"
AgrAbility Still Helping After 20 Years
Vets Applaud Veteran Farmers Project
Helping Area Veterans Find their Place in the Working World
Grant Award Helps Veterans Return Home to Farm and Ranch
AgrAbility
AgrAbility Event Showcases Tools that Allow Disabled Farmers to Continue Work
AgrAbility of Wisconsin Summit set for April 12
Wyoming AgrAbility Announces New Project Director
Other News
Click here for other news of interest to AgrAbility staff members.
CDC: Autism is More Common than Previously Thought
Research on Sound, Neural Processing Could Help Deaf People Hear Amidst the Noise
Purdue Students Develop App to Help Children with Severe Autism
iPad Accessibility: Blue2 Bluetooth Switch by AbleNet
Upcoming Events
Click here for professional development events related to AgrAbility
.
Problems? Contact Clifford Racz, National AgrAbility Project, racz@purdue.edu