September 2014
National AgrAbility Project News
Join us for the AgrAbility Regional Training Workshop in Ft.Collins, CO, Sept. 30th–Oct. 1st, 2014. Regional AgrAbility Events are a great way to network with AgrAbility peers and other professionals that have a role in assisting our clients. More


AgrAbility webinar: Cultural Competency Overview - Thursday, September 25. Register by September 19.
2014 AgrAbility Virtual NTW scheduled for December 2-4. Indicate your preferences for presentation topics here by September 23.
All-Staff Call/Web Meeting - Tuesday, October 7 at 3:00 p.m. EDT via 866-803-2444 and https://gomeet.itap.purdue.edu/all-staff-call/.
Arthritis conference planning committee members needed! More
Bill Field and Chuck Baldwin helped coordinate the AgrAbility 1890 Land-grant University Workshop held at the University of Maryland Eastern Shore Aug. 14-15. More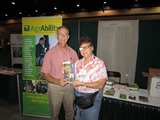 Chuck Baldwin highly recommends the Florida Small Farms and Alternative Enterprises Conference in Kissimmee, FL, he attended Aug. 1 & 2. More
The National AgrAbility Project staffed a display in the health and safety tent at the 2014 Farm Progress Show near Boone, Iowa. More
Mark your calendars for the 2015 AgrAbility National Training Workshop! The NTW will be held in Rochester, New York, on April 13-16.
Click here for the schedule of upcoming Community of Interest and Standing Committee call information.
State and Regional AgrAbility Project News
California
CalAgrAbility welcomes a new partner, Ability Tools-Assistive Technology Network of California, as well as new program director, Dr. Fadi Fathallah, professor and ergonomics engineer. A profound "thanks" goes out to Martha Stiles for designing and directing CalAg for over 12 years. She will be available periodically to assist.
CalAg thanks Val Dolcini, former CA Executive Director of FSA, and an excellent partner and consumer advocate. Val moves to D.C. to begin as administrator for FSA. Oscar Gonzales Jr. will fill in here in CA as head of FSA.
CalAg attended "Bridging Gaps Breaking Barriers California Veterans Conference: Summit on Women Veterans" sponsored by Cal Vet Women Veterans in Sacramento, CA. One of the missions of the conference was to prepare women vets for the workforce.
CalAgrAbility attended the Annual Día del Trabajador Agricola Fair in Greenfield, CA where hundreds of farm families attended and received free services. UCCE ANR News and Info Outreach will be showcasing CalAg during Hispanic Heritage Month Sept. 15 - October 15.
Staff participated in two of Ability Tools' trainings, including one in-person meeting in Berkeley, CA where staff learned about Rehabilitation Engineering and Assistive Technology-RET Project and Support for Families of Children with Disabilities. More
CA NRCS' Soil Conservationist, Roger Tompkins, based in Tulare County, invited CalAg to discuss a greater partnership for outreach to Central Valley farmers with disabilities who would like to sign up for services with NRCS. More
Follow CalAg at https://twitter.com/calagrability
Illinois
Brenda Besse, who has been with the Illinois AgrAbility program for 16 years and has been involved with the National Project, was selected this past month as Illinois "Outstanding Woman Farmer of the Year". More
Indiana
Indiana AgrAbility/Breaking New Ground staff, with the help of many NAP staff and volunteers, hosted the Indiana AgrAbility display during the 17-day-long Indiana State Fair. More
Indiana AgrAbility/Breaking New Ground attended the Battlemind to Home V Symposium in Indianapolis, Indiana. More
Carl Jenkins, Southern Indiana, attended the Harrison-Floyd County Field Day held in Floyd County.
Linda Tarr, Indiana coordinator for Hoosier Uplands, staffed a booth at the SWCD Soil Health symposium in Evansville, IN, and Feldun-Purdue Farm's 100 year celebration. In addition, she did a presentation for Lifespan Resources, Inc. Area 14 Agency on Aging.
Maine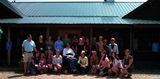 Maine AgrAbility Staff worked with the Maine 4-H Foundation and Grab The Torch (GTT) Institute in hosting about 20 high school girls at Pietree Orchard. More

WABI (TV-Channel 5) reported on the Maine AgrAbility program. More
Staff participated at the Maine Farm Days event in Clinton. More
Minnesota
August, with its numerous county fairs and the Minnesota State Fair, was a busy month for the Minnesota AgrAbility Project staff. More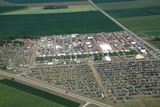 Minnesota AgrAbility Project staff had the opportunity to attend Farmfest 2014, held August 5-7, at Gilfillan Estate in Redwood County, Minnesota. More
Missouri
AgrAbility staff members Maureen Cunningham, director, Brain Injury Association of Missouri, and Jon Sabala, veteran services director, Department of Mental Health, participated in the monthly MOBHA Alliance telec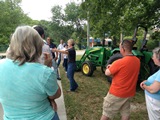 onference.
Karen Funkenbusch presented a veterans to farmers program on Saturday, August 9th, at Lincoln University. More
Staff members from the Innovative Small Farmers Outreach Program continued to partner with the MO AgrAbility Project. More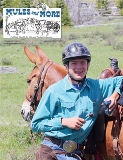 Zane Volkmann, Missouri AgrAbility client, was on the front cover of the September 2014 issue of Mules and More, published monthly for mule and donkey enthusiasts. More
The Brain Injury Association of Missouri is hosting its 10th Annual Statewide Conference on October 16 - 18, 2014, at the St. Charles Convention Center. More
North Carolina
The Arthritis Foundation - Mid-Atlantic Region, in partnership with the NC AgrAbility Partnership and North Carolina Agromedicine Institute, invites you to join us for the Let's Talk About Arthritis - Hablemos Sobre Artritis workshop on October 7th and 8th, 2014, in Kannapolis, North Carolina. More
NC AgrAbility, along with project partners from East Carolina Occupational Therapy and the NC Agromedicine Institute, presented an introductory continuing education session on AgrAbility and issues related to serving farmers with disabilities to 31 physicians at the Vidant Medical Center Physical Medicine and Rehabilitation CME Grand Rounds in Greenville, NC on August 27, 2014. More
NC AgrAbility project coordinator Michele Proctor and Cliff Sutton, NC AgrAbility advisory board member and small farms marketing specialist with NC Department of Agriculture, represented the NC AgrAbility Partnership at the National AgrAbility 1890 Workshop at the University of Maryland- Eastern Shore August 13-16. More
Ohio
The Ohio AgrAbility Program (OAP) recently completed a project funded by the Ohio Attorney General's Office. More
Tennessee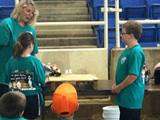 Real eggs, toy four-wheelers and plastic Easter eggs made for a perfect helmet safety demonstration at the Weakley Co. 2014 Farm Fest day for 350 4th graders. Students learned the importance of wearing a helmet when participating in activities that require a helmet and what could happen if you chose not to wear one.
Vermont
VT AgrAbility partners VCIL and UVM Extension sponsored a Farm Field Day featuring assistive technology at AgrAbility peer Kenny Young's Milky Way Farm. This successful event was well-attended and attracted newspaper and television press coverage. More
VT AgrAbility has officially welcomed the Farmer Veteran Coalition to VT with the creation of a farmer-veteran committee and efforts toward chapter organization, outreach activities, and a membership drive. Plans are developing for a fundraising/grant-writing committee to be convened before the holidays.
Wisconsin

AgrAbility of Wisconsin travelled to Wisconsin Farm Technology Days to display an informational booth in the Progress Pavilion, run by UW Extension. More
AgrAbility staff recently began working with a UW Madison Biological Systems Engineering course to guide a group of students in the design of a calf cart. More
Wyoming
The  Arthritis Foundation is sponsoring the "Living with Chronic Illness: More Life, Less Limits" workshop in Cody, Wyoming on Thursday, October 2. Scheduled speakers include Amber Wolfe, National AgrAbility Project, Randy Weigel with the University of Wyoming, and Ashlee Lundvall, Ms. Wheelchair USA, among others. More

Staff Changes
After a lengthy search, the National AgrAbility Project is pleased to welcome Cindy Chastain as our Farmer Veteran AgrAbility Coordinator.
Cindy has a strong background in both the military and agriculture. She grew up on a family farm in Indiana and later earned a bachelors degree in animal sciences from Purdue, where she participated in ROTC. Cindy then served as an Army officer for more than 31 years, including service as Deputy Commander of the 1-19th Agribusiness Development Team from 2008-2010, which was deployed to Afghanistan in 2009-2010. She continues to function as president of Chastain Farms in Crawfordsville, IN.
Cindy's responsibilities with the NAP include networking with SRAPs and other relevant organizations to improve opportunities and outcomes for farmer veteran AgrAbility clients. She will represent AgrAbility at various veteran- and agriculture-related events, assist in planning and conducting AgrAbility's veterans initiatives, and serve as a consultative resource for SRAPs.
This position is being funded through a cooperative arrangement between AgrAbility and the Farmer Veteran Coalition. Our thanks to Michael O'Gorman and his team for their support.
Cindy welcomes your input, ideas, veteran client stories, and networking successes and roadblocks, so feel free to contact her at chastai1@purdue.edu and 765-496-2377.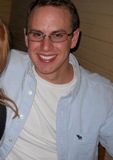 Please welcome Joseph Brajdich, intern with Missouri AgrAbility Project. Joseph is a senior health science major in the School of Health Professions at the University of Missouri. He comes from a large farming community that has recently grown into a more "metro-St. Louis" feeling area. He attended East Central College in Union, MO, and began working summers at Environmental Consultants LLC out of Collinsville, IL. During this time he worked primarily on the remediation of asbestos from schools of all ages. As an air sampling technician he would sample the environments while work was being done on the asbestos removal to ensure safety for both the workers and the general public outside of the containment setting. More specifically, he was responsible for worker safety and compliance while keeping logs of daily activity. Upon moving to Columbia, Joseph has been employed at Missouri Legacy Beef, a small business with a farm in Salisbury, MO.
Ohio:
Angela Lee joined Easter Seals of Ohio in July 2014 as its new director of public affairs, replacing Pat Luchkowsky who retired August 1, 2014. Prior to her employment with Easter Seals she served three and a half years as assistant policy director to Ohio Governor John Kasich. Her role included oversight and policy management of six state agencies: Departments of Public Safety, Veterans Services, National Guard, Agriculture, Youth Services, and Rehabilitation and Correction. She also served as the governor's point person on the Ohio Human Trafficking Task Force. Angela was instrumental in helping pass key legislation packages.
Previous to her employment with the Ohio governor's office, Angela worked for the Ohio Department of Rehabilitation and Correction, where she served in various managerial roles in working with community organizations throughout the state. Her responsibilities included grant writing and management, program development, program capacity development, stakeholder outreach, and quality assurance. Throughout her career Angela has worked in the public sector helping Ohio's most at-risk and vulnerable populations. She has received numerous awards for her service including the Best in the Business award from the American Corrections Association, and the Ohio Excel Award for excellence in programming
Vermont:
VT AgrAbility welcomes the enthusiastic assistance of Nichole Byrne, who is contributing to the organization of the VT Farmer Veteran Coalition during her internship at VCIL as office coordinator.
Wisconsin:

AgrAbility of Wisconsin wishes farewell to Outreach Specialist Vicki Janisch, as she takes on a new position. Vicki worked with the AgrAbility project for three and a half years and made huge strides in increasing the visibility and accessibility of the Wisconsin program. Wisconsin staff wishes her the best in her new position!

Along with the farewell to Vicki, AgrAbility would like to welcome Hannah Gerbitz, the new outreach specialist! Hannah is a recent graduate of the University of Wisconsin Madison and holds a degree in dairy science and life sciences communication. She is no stranger to the project, since during college she served as the AgrAbility program assistant for nearly two years. Hannah's other experience includes working for the Dairy Forage Research Center, Crave Brothers Cheese, Helena Chemical Company, and DuPont Pioneer. She has participated in various volunteer activities with the Professional Dairy Producers of Wisconsin and Wisconsin Farm Bureau. Hannah currently serves as the Rock County Farm Bureau young farmer and agriculturalist chair. Wisconsin welcomes Hannah to the position!
AgrAbility in the News
Click here for news stories featuring AgrAbility projects.
UMaine Program Helps Farmers With Disabilities
(Ireland) Centres are to be developed to help farmers with a disability
Helping VT farmers get back to work after injury, illness
Wear a helmet when horseback riding
Farm People Can Change Behaviors To Reduce Risk For Arthritis
AgrAbility-KY Case study
Don't Neglect Your Joints
Other News
Click here for other news of interest to AgrAbility staff members.
Does dirt make you happy?
Pharm Dog News
Dane County promotes 'Man Therapy' to prevent suicide
Nebraska Veteran Embarks on New Mission with Poultry Operation
Upcoming Events
Click here for professional development events related to AgrAbility
.
Problems? Contact Clifford Racz, National AgrAbility Project, racz@purdue.edu