July 2019
National AgrAbility Project News
The U.S. House Appropriations Committee included AgrAbility in its 2020 agriculture budget at current funding levels. However, the Senate Appropriations Committee has reportedly not finished its process yet.
The NAP has produced a new promotional video, AgrAbility: Renewing Hope, Restoring Productivity with Eric Beckman. SRAPs can link to it on YouTube or download electronic versions on the extranet. More
The NAP continues to work with Council of State Administrators of Vocational Rehabilitation (CSAVR) and the Workforce Innovation Technical Assistance Center (WINTAC) at San Diego State University to help AgrAbility clients receive services from VR. Look for an email soon about how you can contribute to this effort.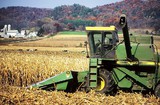 Save the Date for 2020 NTW! The AgrAbility National Training Workshop will take place in Madison, WI, March 23 - 26, 2020.
An electronic version of the "Save the Date" card has been sent to everyone. As you are out and about in these summer months visiting clients, it isn't too early to consider stopping in at a local business to solicit auction donations and sponsorship dollars.
The request for presentations and posters will be sent out soon. Start thinking about sessions that you would like to present or, who you might want to send the request to, so that they can present.
Contact JoBeth or Tess anytime at: JoBeth Rath jbrath@goodwillfingerlakes.org 585.402.2059 and Tess McKeel tmckeel@goodwillfingerlakes.org 585.447.9015.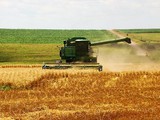 Registration will soon be open for the regional workshop in State College, PA, October 8-9. This workshop will focus on occupational therapy and assistive technology on the farm - working together to keep farmers farming! You can reserve your room at the Days Inn Penn State now by clicking HERE. The agenda and session descriptions will be available soon at www.agrability.org/trainings.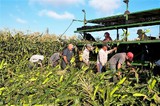 The NAP is in the beginning stages of planning a regional workshop in Davis, CA, for December 3-4. The workshop will be at the Mondavi Sensory Theatre and rooms are blocked at the Hyatt UC Davis. More information will be coming soon!
Bill Field was honored with the Maynard Coe Professional Achievement Award at the ISASH 2019 Annual Conference in Des Moines, Iowa. The award recognizes the important role played by Maynard Coe in the early years of the organization. Coe served as director of the Farm Division of the  National Safety Council for 20 years. More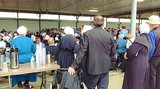 Chuck Baldwin, NAP underserved populations coordinator, attended the national Amish Handicap Gathering (their name for it) and staffed an AgrAbility booth there in Dayton, Virginia, June 7-8. The gathering was a group of 980 primarily Amish and Plain Mennonite from many different states, all of them impacted by disability. More
The recording of the AgrAbility webinar "Advocacy: Working Together for Change" (July 2, 2019) is now available at www.agrability.org/online-training/archived.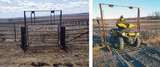 Toolbox Spotlight: South Dakota rancher Bill Gottsleben's Portable ATV/UTV Drive-Thru Gate is designed to tie in to any fence. The vehicle pushes the hinged gate to the ground for drive-over. The steel-tubed, self-standing frame is designed wide and tall enough to accommodate a side-by-side UTV and the cab on a UTV.
State and Regional AgrAbility Project News
Alaska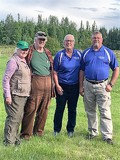 Big thanks and shout out to Ron and Brenda Bridges of the Tennessee AgrAbility project. While traveling to Alaska for their wedding anniversary vacation, they took the time to stop over and spend some time with some of the Alaska AgrAbility team. More

California
California AgrAbility staff presented at the Creating Links to Resources and Opportunities (CREO) monthly meeting at Communicare's West Sacramento Clinic. More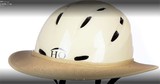 California AgrAbility staff participated in the "All-Terrain Vehicles Safety in Australia" seminar led by David Robertson, managing director of QB Industries who also served as vice chair and chair of the tractor and machinery safety committee of ISASH. More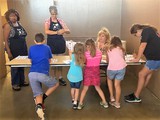 California AgrAbility staff was invited to join the Master Food Preservers at the Madera County Fairgrounds Youth Camp. More
Georgia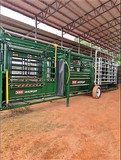 June 6th, Georgia AgrAbility staff met with a sales representative of Arrowquip to discuss cattle handling equipment. More
Georgia AgrAbility hosted a webinar with Dr. Therese Willkomm June 5th, "Creating Assistive Technology Solutions for Limited or No Hand Use." More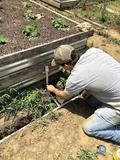 Georgia AgrAbility staff assisted in a volunteer day at a client's home in Calhoun, Georgia. More
Georgia AgrAbility Staff installed an irrigation system at a client's home in Warner Robins, Georgia.
Indiana
Indiana AgrAbility sponsors a Bridging Horizons Community Service Contest. The contest challenges FFA chapters, 4-H clubs, youth organizations, and non-profit organizations to conduct service projects in the community for individuals or groups of individuals with disabilities. More
Steve Swain, Indiana AgrAbility rural rehabilitation specialist, conducted five farm accessibility assessments. More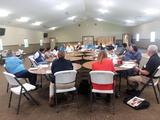 The Breaking New Ground (BNG)/IN AgrAbility advisory team meeting was held June 25 at the FFA Center in Trafalgar, Indiana. More
Over 1000 attended the annual Orange County R.E.M.C. annual meeting. Indiana AgrAbility had a booth there.
Staff also assisted with and had a booth at the Area 15 Agency on Aging health and information fair in Paoli and the Indiana Rural Health Association conference.
Kansas
In June, KAP Staff participated in a Progressive Agriculture Safety Day for K-5 youth. Their presentation focused on disability awareness and injury prevention and included a few fun interactive activities... More
Maine
On June 2, AgrAbility staffer Brie Weisman presented "Yoga for Farmers and Gardeners" at the Annual Farm & Homestead Day in Unity, ME. More
Brie Weismann is busily learning ways to incorporate her 3-D printing skills into AT for farm clients, and she will be having a demonstration workshop as part of the E2C symposium this October.
Ketra Crosson OT/L, worked with APRIL and Nebraska AgrAbility to deliver the AgrAbility webinar "Advocacy: Working Together for Change." More
On July 27th, the AgrAbility and Pre-ETS team met to discuss achievements during the school year and plans for summer work on farms. More
Maine AgrAbility Veteran Outreach Coordinator Anne Devin and Kelley Smith, ATP and AgrAbility specialist, are finalizing the program details for the upcoming Educate-2-Culitvate symposium. More
Maine AgrAbility's Ellen Gibson presented an "Adaptive Gardening" class for Knox-Lincoln and Waldo county Master Gardeners program on June 6. More
Positively Maine's Tory Ryden interviewed Dick Brzozowski from Maine AgrAbility, Lisa Phelps, and Sally Farrell from UMaine Extension 4-H, and Sarah Morton from Alpha One, about Maine AgrAbility and the 4-H Experience. Listen to the 4-part podcast.
Lancaster Farming reported on Holly Pickens, U.S. Army veteran, owner of Wabi-Sabi Farm in Whiting, Maine, and a client of Maine's AgrAbility veterans program for farmers experiencing disability issues related to their military service. Read the article here.
Michigan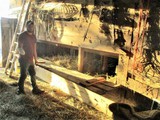 Michigan AgrAbility held a live Facebook event on Friday, June 28, at Matt Liebetreu's farm! Matt injured his hand/arm when attempting to free hay in a hay baler. More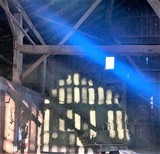 There is certainly beauty in farming. Michigan AgrAbility client Aaron Fenrich captured the beautiful interaction of light and shadows in his barn. More
Sharing information, whether it be assistive technology ideas, activities from other states, or safety and health information, is an important aspect of Michigan AgrAbility's activities. More
Missouri
During the month of June, Missouri AgrAbility joined the National Safety Council to raise awareness and highlight safety in the workplace. More
Karen Funkenbusch, Missouri AgrAbility, co-presented three education posters and one oral presentation, and participated in the mental health round table at the 2019 International Society for Agricultural Safety and Health (ISASH) annual conference, June 24 - June 27, in Des Moines, Iowa, with AgrAbility for Pennsylvanians. More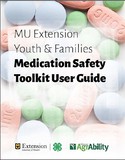 Karen Funkenbusch also participated in the MU Extension Opioid Task Force monthly meeting to discuss the recent release of the MU Extension Youth & Families Medication Safety Toolkit Guide. More
University of Missouri-Kansas City School of Pharmacy, a Missouri AgrAbility partner, participated in a Missouri AgrAbility Collaborative Team Meeting to share progress, budget updates, and future planning.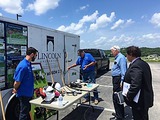 Dr. Scott Angle, head of NIFA, learned about Lincoln University's Innovative Small Farmer's Outreach Program (ISFOP) during his visit to Jefferson City, Missouri, on June 27. More
Rehabilitation, employment, community living, and case management were discussed with the Missouri AgrAbility Project during the Brain Injury Association of Missouri (BIA-MO) Networking Coffee for professionals on June 4 in St. Louis. More
Alyssa Grese, BIA-MO program associate, disseminated the "AgrAbility Offering Solutions for Farmers with Disabilities" brochure to federal reserve employees who live in Jefferson, Franklin, St. Charles, and surrounding rural areas of St. Louis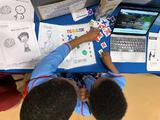 counties during the St. Louis Federal Reserve Safety Fair on June 5. More
The St. Louis Cardinals hosted their annual Redbird Rookies Health Fair on June 29, with 1,000 youth in attendance. More


Nebraska
Nebraska AgrAbility was represented at the Nebraska Cattlemen's Ball in Enders. The event was well-attended and the focus was cancer awareness and prevention. More
At the monthly veteran's meeting in Norfolk, discussion was about Project Homeless Connect, which helps individuals gather food, clothing, and supplies needed to get them back on their feet. More
Staff attended the Sandhills Ranch Expo in Bassett, Nebraska. While attendance was down, there was still some great communication and lots of "stress less" information handed out and demonstrated. More
New Mexico
New Mexico AgrAbility Project's first occupational therapy graduate student has commenced a three-month intensive fieldwork at the New Mexico Technology Assistance Program (NMTAP). More
Mandy's Farm is now ready to accept applicants for farming apprentices with disabilities. The farm apprentices will be learning about natural growing methods, farm marketing, value-added ideas, business planning, and health education topics.
North Carolina
On June 6, NC AgrAbility participated as a poster presenter at the 2019 NC STRIVE Central East Conference. More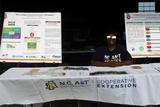 On June 6, NC AgrAbility participated at the Small Farm Field Day at NC A&T University Farm with a poster entitled "Who is at Risk of Sustaining Injuries in Agriculture?" About 350 participants attended the event.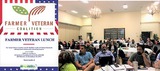 NC AgrAbility and NC Farmer Veteran Coalition held an informational lunch for veterans who are in farming at the Alumni Event Center at NC A&T State University June 14. Resources available were presented to about 40 attendees.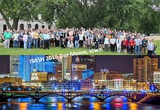 The International Society for Agriculture Safety and Health Conference was held in Des Moines, Iowa, June 24-27. Dr. Kyle presented on behalf of NC AgrAbility and NC Agromedicine Institute a session entitled "Investigating the Mental Wellness of Veterans Who Farm." More

Ohio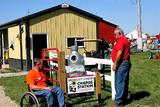 Ohio AgrAbility staff are busy planning for the Farm Science Review in September. New this year, OAP will feature "Ohio AgrAbility: A Focus on Livestock - Interactive equipment and vendor exhibit for farming with a disability." More
OAP has formed a workgroup focused on developing resources and opportunities for employment in agriculture for individuals with intellectual disabilities. More
Pennsylvania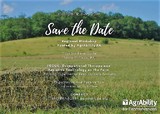 Save The Date! AgrAbility Regional Workshop, Oct. 8-9, 2019, Days Inn Penn State | State College, PA
The AgrAbility PA team is excited to announce that they will be hosting a regional workshop in conjunction with the National AgrAbility Project in STATE COLLEGE, PA! More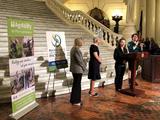 AgrAbility PA joined the Pennsylvania Assistive Technology Foundation (PATF) at their annual press conference at the state capitol building in Harrisburg. More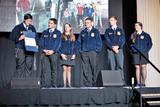 AgrAbility PA named Pequea Valley FFA and Grassland FFA as winners in the 2019 AgrAbility PA Contest. More
Missouri and Pennsylvania AgrAbility Projects teamed up to present three posters at the 2019 International Society for Agricultural Safety and Health Conference in Des Moines, Iowa. More
South Dakota - Tatanka Ki Owetu
Tatanka Ki Owetu, the Renewal AgrAbility Project on the Pine Ridge Reservation in South Dakota had a busy month of June. The team has been out assisting clients developing their sites and on-the-ground, low-cost AT solutions that fit the clients' budgets and under-developed infrastructure as well as their disabilities. More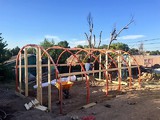 A recent client's situation has brought to the front another aspect that many of the project's clients struggle with and that is the overall state of disrepair and dysfunction in their communities, i.e. the social and physical environment within which they're trying to start their small farm. More
Tennessee
TN AgrAbility is a partner of the Tennessee Beginning Farmer Development Program (TBFOP). More
TNAP exhibited and networked at the 40th celebration of the Vet Center in Knoxville TN.
Farmers markets are in full swing! Remember to look for Homegrown by Heroes labels to support farmer veterans. A new one, Mountain Home Farmers Market, opened at the James H. Quillen VA Medical Center in April 2019. More
TNAP presented at two regional Vocational Rehabilitation meetings. There was a total of 55 present who learned or refreshed their mind about the TN AgrAbility program.
TNAP presented to 25 Tennessee State University OT students. These students will begin working on several projects for TN AgrAbility over the next months.
TNAP staff is looking forward to a new video featuring TN AgrAbility customers. They hope to share with everyone late summer/early fall.
Texas
The Texas summer heat is on full-force, and Texas AgrAbility has been busy with assessments and training programs.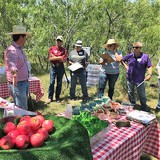 Texas AgrAbility staff assisted with a Produce Food Safety Workshop for Military Veterans in Nixon, Texas, at Mesquite Field Farm. More
Texas AgrAbility staff member Ellie Gandara-Castillo attended a women in agriculture event in McAllen, Texas, where she shared information about Texas AgrAbility.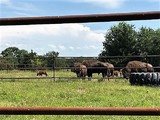 Texas AgrAbility staff conducted a farm/ranch assessment for a veteran's bison, pastured poultry, and pastured pork operation.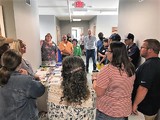 Texas AgrAbility & BattleGround to Breaking Ground hosted an agriculture business workshop on June 29th in Seguin. Attendees learned about AgrAbility along with business planning, rural business ideas, and funding and resources.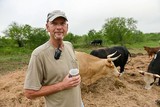 Doug Havemann, partner and AgrAbility client, shared his experience owning and operating a farm in Texas as a veteran with a disability. More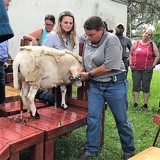 Members of the BattleGround to Breaking Ground program and AgrAbility clients hosted a Sheep 101 workshop in conjunction with the ag business workshop in Seguin on June 28. More
Applications for the next cohort of the BattleGround to Breaking Ground Training Project are now open. More
Utah
AgrAbility of Utah staff met with the Cache Valley Veterans Association on June 19 and explained AgrAbility to its board and members. More
Staff Changes and Recognition
Michigan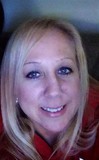 Please welcome Andrea Garza to the Michigan AgrAbility team! Andrea shared the following to introduce herself: "My name is Andrea Garza. I am a new addition to the AgrAbility team. I have been hired on as an agricultural assistive technology professional. I will be helping Ned with reaching out to farmers with disabilities and helping these farmers continue to farm through the services provided by AgrAbility. I also will be reaching out to migrant farm workers by utilizing my Spanish to communicate with this population. More

South Dakota - Tatanka Ki Owetu
AmeriCorps VISTA volunteer Nick Ciaramitaro has completed his year of service, and new VISTA volunteer Patrick Hall has joined the team.
AgrAbility in the News
Click here for news stories featuring AgrAbility projects.
How Safely Do You Operate your Tractor?
Every day, Missouri farmers face hazardous work conditions and potential injury
Workshops and tours designed for veteran farmers
WVU Extension Program Helps Farmers Continue to Be Productive & Prosperous
Cancer left him paralyzed, AgrAbility gave him hope
Farm produce safety programs being offered to military veterans in Texas
Token Creek greenhouse makes changes
AgrAbility recognizes FFA chapters for community work
Other News
Click here for other news of interest to AgrAbility staff members.
AgriSafe Learning Lab
Upcoming webinars: Seven Habits for Effective Farmers Webinar Series
New database puts sharper focus on U.S. ag injuries
USDA now making payments for dairy program
Committee passes Family Farmer Relief Act
Progressive Agriculture Safety Days
$20,000 child ag injury prevention grants available
USDA Farm Bill implementation progress update
Act seeks to mitigate student loan debt for farmers
Is your will clear?
When do cover crops pay?
Upcoming Events
Click here for professional development events related to AgrAbility
.
Problems? Contact Chuck Baldwin, National AgrAbility Project, baldwi19@purdue.edu