September 2011
National AgrAbility Project News
Registration is open for the 2011 AgrAbility National Training Workshop! Earlybird registration will be open until October 14. Those needing the hotel government room rate will need to call the hotel directly. more
An audio recording of the all-staff call on September 6 is available. Contact Paul Jones at jonesp@purdue.edu for a copy.
The AgrAbility webinar Hand Protection in Agriculture has been archived at http://agrability.org/Online-Training/archived/index.cfm.
AgrAbility was represented at the National Veterans Small Business Conference and Expo in New Orleans by Paul Jones.
State and Regional AgrAbility Project News
California
To increase capacity, two staff members attended a 12 hour certification course on Mental Health First Aid hosted by the Yolo County Department of Alcohol, Drug, and Mental Health. more
CalAgrAbility receives inquiries from farmers about loans and lenders, so staff attended a community meeting with the California Rural Legal Assistance agency in rural Sutter County. more
CalAg attended the Woodland Annual Tomato Festival; participating agencies included CalOSHA, Champions for Change, and Hearing Loss Association of America-Hear! Here! more
The team, including the Arthritis Foundation Partner, traveled to Sacramento and gave a rehabilitating farmers workshop at the RILC for ILC consumers and staff. more
Continuing CalAg's Taking the Reins: Living and Working with Arthritis on Farms training workshops, staff traveled to migrant centers in Davis and Madison to deliver the Spanish language trainings. more
Indiana
Breaking New Ground/Indiana Agrability devoted much of its time during August to staffing displays at the Indiana State Fair. more
Kansas
Kansas AgrAbility hosted an Arthritis and Agriculture Workshop featuring Amber Wolfe on August 29 in Dodge City, KS.
Minnesota
It is with sadness that the Minnesota AgrAbility Project reports the passing of a longtime friend of AgrAbility, Ed Butterfass. more
Minnesota AgrAbility staff participated in the 30th annual Farmfest, August 2-4, 2011, at the Gilfillan Estate in Redwood County, Minnesota. more
Minnesota AgrAbility staff and program partners also attended the Minnesota State Fair and numerous county fairs across the state, providing information about the Minnesota AgrAbility Project.
Missouri
Using Adobe Connect web conferencing, Willard Downs and Karen Funkenbusch have been able to provide monthly AgrAbility and Gardens for Every Body updates to agricultural systems management and Extension regional faculty. more
Russell Ramsey, MO AgrAbility volunteer farmer and liaison, presented AgrAbility at the Missouri Retired Vocational Agriculture Teachers Association annual meeting. more
AgrAbility staff from the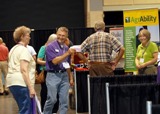 University of MO Extension demonstrated AT devices in agriculture at the Missouri State Fair: It's a Show Me Thing!, August 11-21, 2011, in Sedalia, Missouri. more
Kansas, Missouri, and National AgrAbility programs participated at the National Association of County Agricultural Agents (NACAA)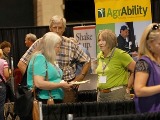 Annual Conference. more
Volunteer master gardeners presented MO AgrAbility Gardens for Every Body programs throughout rural Missouri to the public with small acres. more
Nebraska
Del Ficke, rural rehabilitation specialist, presented to the Seward Kiwanis Club Board, telling about success stories, peer support, and upcoming AgrAbility events. more
Due in large part to promotion on the part of Del Ficke, Nebraska AgrAbility received an invitation to the Nebraska Farm Bureau Trade Show in December. more
Husker Harvest Days, the ultimate Farm and Ranch Show in Nebraska, will be September 13-15, near Grand Island, NE. more
Ohio
Visitors to this year's Ohio Farm Science Review, September 20-22, can stop by the OSU Ag Safety and Health area to learn more about how Ohio AgrAbility helps bridge the gap so farmers with disabilities can continue to succeed. more
Ohio AgrAbility has also partnered with the Universal Design exhibit in the McCormick Building on Friday Avenue. more
A new addition this year to AgrAbility based activities at Farm Science Review is the creation of the "AgrAbility" Bus. more
Oklahoma
Fourteen Extension Educators across the state conducted a minimum six session Arthritis Foundation Life Improvement Series: Arthritis Exercise Program and completed their certification as AF Trainers for this program. more
OK AgrAbility introduced Community Nutrition Education Program Area Coordinators to the AgrAbility Project.
OK AgrAbility teamed with Kansas AgrAbility and the OK and Kansas Arthritis Foundations to host Arthritis and Agriculture seminars on August 29 in Dodge City, Kansas and on August 31 in Stillwater, Oklahoma.
An Oklahoma Press Association search of Oklahoma AgrAbility for May 19-August 19 revealed 35 articles promoting the Arthritis and Agriculture Seminar. more
Staff from the Oklahoma Division of Vocational Rehabilitation and the Oklahoma AgrAbility program at Oklahoma State University learned about Wisconsin DVR's successful practices in serving farmers with disabilities on August 18-19. more
Rob Cook, a 2011 Australian Nuffield Scholar, visited Oklahoma in mid August. more
Vermont
The VCIL's TBI Support Group continues to grow by adding another new member at its August meeting.
The VCIL's Hardwick support group's volunteer carpenters continue to work on a room addition project for an AgrAbility farmer in need.
VCIL's Janis Moore has started the Agricultural Medicine: Occupation and Environmental Health for Rural Health Professions course.
Wisconsin
The Indian Summer Festival is September 8-11. AgrAbility of Wisconsin will be teaming up with the Department of Veterans Affairs to highlight the 20 years of service and educate the community about the program. more
AgrAbility of Wisconsin will be involved with the College of Agriculture and Life Sciences Career Fair at the University of Wisconsin - Madison September 15. more
AgrAbility of Wisconsin will be attending two Assistive Technology events in September, highlighting 20 years of the program and the versatility of assistive technology used to support individuals with disabilities.
Staff Changes
California
In August, CalAgrAbility welcomed new intern staff, Maria Ceja.
Oklahoma
After enjoying her summer vacation, Oklahoma AgrAbility welcomes back Paige Eckert, Graduate Student, Research & Development, OSU; College of Human Sciences & Department of Human Development & Family Science. Paige is completing her masters degree in 2012 with an emphasis in Gerontology. Her proposed thesis will test the Satisfaction With Life Scales on Centenarians. She supports the AgrAbility Project team by providing programming and research assistance.
Wisconsin
AgrAbility of Wisconsin would like to congratulate Vicki (Cooper) Janisch on her recent marriage on August 20, 2011. We are excited for the new chapter in her life and her continued support and involvement as the Outreach Specialist for AAW.
AgrAbility of Wisconsin is happy to welcome Zach Stolfus, our new FARM Outreach Assistant, and Laura Finley, our new FARM Program Assistant. We have a great opportunity to continue working with our AmeriCorps program and will have these members serve their term through May 2012. These two positions are available through our partners at Easter Seals Wisconsin.
AgrAbility in the News
Click here for news stories featuring AgrAbility projects.
Helping Farmers with Disabilities
AgrAbility Anniversary to Take Place
20 Years of AgrAbility Offer Hope, Disability Assistance
AgrAbility Reaches 20 Year Milestone
Seminar Will Help Farmers Handle Arthritis
Farm Science Review Features Biofuel Crops
Missouri's Gardens for Every Body
Goodwill Reaching out to Colorado Communities
Arthritis and Agriculture Meeting to be Held at Dodge City Senior Center

Other News
Click here for other news of interest to AgrAbility staff members.
Solutions for Living Publication
Can You Hear Me: An Introduction to Hearing Loss Prevention in Agriculture Webinar

Upcoming Events
Click here for professional development events related to AgrAbility.
Problems? Contact Clifford Racz, National AgrAbility Project, racz@purdue.edu