May 2012
National AgrAbility Project News
The NAP staffed a display at the AOTA Annual Conference and Expo in Indianapolis on April 26-28. more
The NAP Advisory Team met for its annual face-to-face meeting in Indianapolis on April 24-25. more
Amber Wolfe presented a free community-based educational workshop on arthritis and agriculture in Montgomery, Alabama on April 5. more
There's still time to register for the annual ISASH Conference, where AgrAbility will be represented. more
Amber Wolfe presented a free community-based educational workshop on arthritis and agriculture in Montgomery, Alabama on April 5. more
The Marketing Committee is scheduled to discuss social networking and hear a presentation on Wisconsin AgrAbility's marketing efforts on Thursday, May 24 at 11:30 a.m. EDT via 866-803-2444.
Click here for the schedule of upcoming Community of Interest and Standing Committee call information.
Toolbox Spotlight
See what's new in The Toolbox online this month.
State and Regional AgrAbility Project News
California
CalAgrAbility's spring season has kicked off with a bang, as staff have been attending events in half a dozen rural venues. more
Taking the Reins (arthritis workshop) and Exercise Classes were conducted in Spanish at the Mexican American Community Service Agency, Inc. in Monterey County, the Orchard Village in Yolo County, and Clinica Tepati in Sacramento County. more
Colorado
AgrAbility client Jackie Weimer was one of four featured stories at this year's Power of Work luncheon presented by Goodwill Industries of Denver (GID). more
The Colorado AgrAbility Project (CAP) was invited to present at the monthly board meeting of the Colorado Farm Bureau (CFB). more
CAP staff manned booths at rural health fairs run by a Colorado nonprofit 9Health Fair. more
CAP shared information with Agriculture and Business Management instructors from junior colleges across the state at their recent gathering in Denver.
CAP shared AgrAbility information at a resource fair hosted by Cargill at their beef processing plant in Fort Morgan, CO. more
Indiana
Steve Swain, the Indiana AgrAbility rural rehabilitation specialist, spoke to the Madison County Junior Leaders about disabilities, accessibility, and the accessibility of their county fairgrounds. more
A presentation was also made to the Hancock County Master Gardener class. more
The Purdue College of Agriculture presents to the public an opportunity to see and experience what each department within the College is researching or what students are learning. more
Minnesota
On Friday, April 20, 2012, Minnesota AgrAbility Project staff Alvin Rasmussen and Dan Stores participated in the filming of a news story highlighting the Minnesota AgrAbility Project, and how the project has helped a local farmer in Harmony, Minnesota. more
Minnesota AgrAbility Project staff Alvin Rasmussen and Dan Stores presented two training sessions at the 83rd Annual Minnesota State FFA Convention held on April 22-24, 2012. more
Missouri
Services for Independent Living, Mexico Branch collaborated with the MO AgrAbility Program to present two Gardens For Every Body educational programs. more
Karen Funkenbusch, AgrAbility Extension, and Amber Wolfe, National AgrAbility Project, facilitated a teleconference with the Arthritis Foundation Eastern Missouri Chapter to explore future collaborative arthritis and agriculture programs. more
AgrAbility Extension staff attended workshops hosted by the Missouri Department of Veterans Affairs on federal benefits for veterans, dependents, and survivors. more
AgrAbility Extension staff met with the MO Department of Agriculture and MO Department of Labor to explore collaborative initiatives that cooperatively support Missouri farmers and ranchers. more
Jackie Allenbrand, MERIL AgrAbility outreach specialist for the northwest region, reported that she traveled to a farmer's home in Harrison County to assist with an onsite farm home accessibility assessment with Connie Neal, University of Missouri Extension housing specialist and Carla Rickabaugh, MERIL accessibility coordinator.
Chris Davis, Assistive Technology technician with the University of Missouri Extension, and Janet Hurst, farm outreach worker, Franklin and Warren Counties, Lincoln University Cooperative Extension, reported that four small farmers with disabilities were awarded USDA funding to build hoop houses as part of a new pilot project under the "Know Your Farmer, Know Your Food" initiative. more
Nebraska
"Rehabilitating Nebraska Farmers and Ranchers with Disabilities" drew 19 occupational and physical therapists to Grand Island, NE, to learn more about farm culture, treatment strategies, and resources available when working with people with disabilities. more
Following Veteran Farmer workshops earlier this year in collaboration with the Center for Rural Affairs and Farmers Union, plans are proceeding for farm visits this summer. more
Check out a possible alternative to barbed wire fence staples at www.bigheelfasteners.com. more
Ohio
Ohio AgrAbility will be participating and presenting at a full schedule of events and programming scheduled for May. more
Oklahoma
Five participants attended a program on the AgrAbility Project held by an OCES Extension educator at the Coalgate Public Library in Coal County, and a 4-H member in Okfuskee County presented a Disability Awareness session at a Progressive Ag Safety Day.
The Oklahoma AgrAbility Project had a presence at the following venues in April: Oklahoma Agriculture Day at the Capitol, Disability Awareness Day at the Capitol, the Langston University Goat Field Day, a State 4-H Curriculum Meeting, and an Oklahoma Cooperative Extension Service Issue Team Meeting.
Arthritis Foundation Exercise classes were held by OK Cooperative Extension Educators in Jefferson and Seminole Counties, reaching 75 participants.
Cooperative Extension educators continue to attend the recorded professional core training on AgrAbility. more
Vermont
At the Spring 2012 VT Farm Health Task Force meeting, VT Legislative aides discussed the 2012 Farm Bill and VT AgrAbility's role as a primary voice for farm health and safety, not only in Vermont, but regionally in the Northeast through partnerships with AgriSafe, NYCAMH, Cornell Extension, and Centers for Independent Living. more
Vermont now has 4 peer support groups dispersed around the state with Tom Younkman and Janis Moore as facilitators of the groups. more
West Virginia
West Virginia AgrAbility sponsored a two day training for occupational therapists, physical therapists, and vocational rehabilitation counselors. more
Wisconsin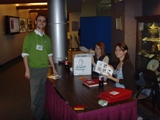 The 2012 AgrAbility of Wisconsin Summit was held in Marshfiled, Wisconsin April 12. more
AgrAbility of Wisconsin (AAW) hosted the Western Technical College Occupational Therapy Assistant Program students for a farm experience in Viroqua, Wisconsin April 25. more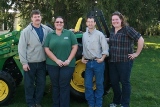 April 18-19 2012 AgrAbility of Wisconsin was part of the Agricultural Assistive Technology Training in Mount Pleasant, Michigan. more
Wyoming
Wyoming AgrAbility released its annual newsletter insert, which was distributed throughout Wyoming in the Casper Star Tribune on April 26. Articles covered topics including assistive technology, horticulture therapy, posttraumatic stress disorder, and accessible recreation.
Wyoming AgrAbility presented a workshop on Assistive Technology, Safety, and AgrAbility on April 2 for Annie's Project. Annie's Project is a risk management educational program targeting women in agriculture.
Staff Changes
Oklahoma
Congratulations to Paige Eckert, Oklahoma AgrAbility graduate research assistant. She has defended her Master's Thesis on "Distal and Proximal Influence of Trauma Events on the Well-Being of Centenarians" and will be graduating in May from the College of Human Sciences at Oklahoma State University. Paige has worked with the Oklahoma AgrAbility Project for two years assisting in research, education, and outreach to develop quality materials and programming efforts. Good luck to Paige as she begins her professional journey!
West Virginia
Mary Slabinski-Schmidt, who served as program specialist for West Virginia AgrAbility, resigned May 8. We wish her luck in her new position with the state's TBI project in Charleston.
AgrAbility in the News
Click here for news stories featuring AgrAbility projects.
New Products to Help Farmers with Arthritis, Back Problems, Hearing Loss
AgrAbility Toolbox Expands with Horticulture, Forestry Aids
MN AgrAbility Project Helps Local Farmer
Farm Faith Carl Ragsdale
AgrAbility, Easter Seals, Farm Medicine Center Can Help
Did We Learn Any Lessons from the Last Farm Crisis?
Extension Program Connects Disabled Farmers with Service Dogs
PHARM Dog Lends Helping Paw
Other News
Click here for other news of interest to AgrAbility staff members.
LinkedIn AT Professionals Discussion Board
Upcoming Events
Click here for professional development events related to AgrAbility
.
Problems? Contact Clifford Racz, National AgrAbility Project, racz@purdue.edu