September 2012
National AgrAbility Project News
AgrAbility Webinar Series: Mental/Behavioral Health Resources for the Drought Aftermath. Thursday, September 27, 3:00 p.m. EDT. more
The AgrAbility webinar Veterans in Agriculture: Military 101 is now archived at www.agrability.org/Online-Training/archived.
The Northwestern University Prosthetics–Orthotics Center, an unfunded NAP partner, recently published an article on farmers and prosthetics in the journal Disability and Rehabilitation: Assistive Technology. more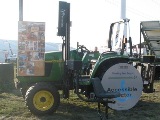 The National AgrAbility Project staffed a display in the Health and Safety Tent at the 2012 Farm Progress Show in Boone, Iowa on August 28-30, 2012. more
Amber Wolfe traveled to Little Rock, Arkansas on August 7th to assist the Arkansas AgrAbility staff with their Extension Educator training program. more
On August 15th and 16th, Amber Wolfe presented AgrAbility trainings to Arthritis Foundation and AgrAbility staff from the Mid-Atlantic regions in Bethesda, MD and Charlotte, NC. more
Click here for the schedule of upcoming Community of Interest and Standing Committee call information.
Toolbox Spotlight
See what's new in the Toolbox online this month.
State and Regional AgrAbility Project News
California
CalAgrAbility attended the 5th Annual Castle Family Health Center Summer Family Health Festival in Atwater where 500+ farm families gathered for free vision, hearing, diabetes, blood pressure, and breast exams. more
CalAg has increased participation in veterans events, such as the Veteran Resource Day at Solano Community College in Fairfield, CA, where about 50 veterans attended as well as 10 agencies including CalVet, the Workforce Investment Board of Solano County, and agencies hiring. more
CalAg community collaborations were enhanced when staff members attended the Community Action Team (CAT) Meeting of the California Rural Legal Assistance in Marysville, CA, where combining AgrAbility outreach efforts with regional agencies can provide stronger services to farmers. more
Self-help and exercise workshops for arthritis continue to be a popular request from English and Spanish populations in rural towns. more
Colorado
Colorado AgrAbility was busy in August with many site visits and a few county fairs at the beginning of the month. more
Georgia
AgrAbility in Georgia was featured this past week on the Georgia Farm Monitor. more
AgrAbility in Georgia has also added a new page to its website to feature fabrications the AgrAbility team has made for clients at www.farmagain.com/fabrication. more
Check out Georgia AgrAbility on Facebook to stay abreast of their activities and recent fabrications: www.facebook.com/agrabilityinga.
Indiana
Registration is now open for the Indiana AgrAbility/NAP workshop, "Veterans and Agriculture: Opportunities for Employment, Entrepreneurship, and Enrichment," November 7-8 at the Beck Agricultural Center in West Lafayette. more
Indiana AgrAbility and the NAP are working with Purdue agricultural and biological engineering senior capstone project students to devise a reproducible mechanism for converting hydrostatic controls on John Deere lawn mowers to hand controls. This issue is one of the most frequent questions received via the NAP website and toll-free number.
Amber Wolfe presented a session on the Indiana AgrAbility Project to the Indiana Farm Service Agency district directors at their annual meeting in Indianapolis on August 21.
Maine
Maine AgrAbility has developed a stretching poster for dairy farmers to post in their barns. more
Maine AgrAbility also conducted a survey of over 150 participants at Maine Farm Days asking about their boots and backs. more
Minnesota
Minnesota AgrAbility staff participated in the 31st annual Farmfest Farm Show, August 7-9, 2012, at the Gilfillan Estate in Redwood County, Minnesota. more
Minnesota AgrAbility staff Carol Fury, Wendy Arneson, Dan Stores, Al Rasmussen and other program partners have had a busy summer attending numerous county fairs, and other events across Minnesota. more
Staff also participated in other notable events including: the Minnesota State Fair 8/23/2012-9/3/2012, the Minnesota State Cattleman's Association Tour 7/10/2012, and Potato Days in Barnesville, MN 8/24-8/25 2012.
North Carolina
NC AgrAbility has been busy with statewide networking and presentations. more
Michele and Robin Tutor-Marcom from the NCAP partner NC Agromedicine Institute made presentations to local VR offices, various western NC agricultural affiliates, and the Special Populations Health Workgroup Meeting hosted by NC Community Health Center Association.
Michele, Robin, and NCAP Advisory Board Member Cliff Sutton of NCDACS also attended a presentation by Amber Wolfe to the National Arthritis Foundation Mid Atlantic Regional Office in Charlotte on August 16th.
Two senior design teams from NC State University Agricultural Engineering have selected NC AgrAbility projects for their year-long design projects. more
The next NCAP Advisory Board meeting will be September 26th in Smithfield, NC.
Nebraska
Anna Lewandowski, an OT graduate student, is working with the Nebraska AgrAbility team this semester on a professional rotation. more
Nebraska AgrAbility lost a true friend to the program on Friday, August 24th. Nathan James, owner of Advanced Mobility Solutions, was killed in a car accident. more
Ohio
Ohio AgrAbility Project and Safe Haven Farm visited Bittersweet Farms in Whitehouse, Ohio. more
Ohio AgrAbility Project met with Common Grounds Community Church (CGCC) in North Lima, Ohio. more
Oklahoma
Oklahoma AgrAbility produced a training video from the two-day course presented by Oklahoma AgrAbility staff to Doctor of Physical Therapy students at Langston University that focused on supporting farmers and ranchers during their rehabilitation process and the identification of appropriate assistive technology devices and work modifications. more
Oklahoma AgrAbility is pleased to announce the launch of their Assistive Technology Lending Library now available online at www.agrability.okstate.edu. more
Sandra Stevenson, Oklahoma AgrAbility program manager, was accepted into the Oklahoma Agricultural Leadership Program whose overall objective is to further develop future leaders in Oklahoma agriculture. more
Oklahoma AgrAbility staff conducted a presentation and hosted an exhibit booth at the statewide Women In Ag and Small Business Conference. more
Oklahoma AgrAbility staff participated in a "Meet-and-Greet" Orientation for new Educators of the Oklahoma Cooperative Extension Service.
Vermont
Tom Younkman and George Cook talked with folks during the Lamoille County Field Days to discuss AgrAbility and the many ways the program can assist farmers with disabilities.
The one year anniversary of Hurricane Irene was marked by bells ringing at 7pm on August 28 to remember all those who were lost during the tragic storm of last summer.
Some farms are recovering by adding acres of soil to lost fields and purchasing cows, other livestock, and equipment to replace the ones swept away in the flash floods. It will be many years until life, and routine, return to pre-Irene conditions.
Wyoming
Wyoming AgrAbility has produced a third bulletin in the Solutions for Living Series titled, Solutions for Living: Personal Protective Equipment for Agriculture.
Wyoming AgrAbility shared information on reducing hearing loss in ranchers and farmers at the University of Wyoming's Agricultural Experiment Station field days in Lingle, WY in August.
Staff Changes
Maine
As of August 1, 2012, Maine AgrAbility has hired a new project coordinator: Lani Carlson. Lani has a BS in mechanical engineering and over 12 years experience in the environmental engineering and consulting industry, with a strong background in health and safety. In addition, she has over six years experience with her family farm and three seasons running her own CSA. She will be using her technical background combined with her passion for people and agriculture to make a difference in a Maine farmer's life that is affected by a disability or chronic illness. You can reach Lani by email at leilani.carlson@maine.edu or by phone at 207-944-1533. Thank you!
Oklahoma
Welcome Diana Sargent and Tammie Honeyman as program assistants for Oklahoma AgrAbility. Diana provides front-line customer service with AgrAbility contacts and supports clients through the application process. She provides direct service resource and referral components of the project, and maintains data collection and reporting to all project partners and advisory council members. Tammie supports the project with disability-focused administrative detail and maintaining office procedures.
Welcome Chelsea Lott as our new graduate research assistant. She is a first semester master's student in Human Development and Family Science.
AgrAbility in the News
Click here for news stories featuring AgrAbility projects.
Resources Available for Veterans in Agricultural Communities
Cattlemen to Cattlemen Colorado AgrAbility Interview
Other News
Click here for other news of interest to AgrAbility staff members.
An Unqualified Success, at Least in London
Upcoming Events
Click here for professional development events related to AgrAbility
.
Problems? Contact Clifford Racz, National AgrAbility Project, racz@purdue.edu