August 2013
National AgrAbility Project News
Join the AgrAbility All-Staff Call/Web Meeting on Monday, August 19 at 3:00 p.m. EDT. more
Save the date for the 2014 AgrAbility National Training Workshop to be held March 31-April 3 in Lexington, Kentucky at the Hilton Lexington Downtown Hotel. more
The 2013 Virtual NTW is scheduled for December 10-12. Give your input on presentations for the event. more
AgrAbility now has 24/7 toll-free call coverage via Goodwill of the Finger Lakes. more
The NAP plans to form a working group to help develop a back impairment resource. Look for a listserv message soon.
Amber Wolfe presented a session on arthritis-related farm modifications and assistive technology at the Kentucky Summer Institute on AT in Frankfort, KY on July 11.
Amber Wolfe was hosted by the Maine AgrAbility Project on July 30 and 31 for two full Arthritis & Agriculture consumer workshops and a one-hour arthritis presentation at several locations across Maine.
Click here for the schedule of upcoming Community of Interest and Standing Committee call information.
Toolbox Spotlight
In this month's spotlight contains a few odds and ends that you wouldn't necessarily think of yourself. Take a look at these unique tools: more
State and Regional AgrAbility Project News
California
CalAgrAbility conducted four Get Moving: Arthritis Prevention and Pain Management Exercise Program classes. more
Staff attended the Sacramento Ergonomics Roundtable session and networked with OSHA and local ergonomics experts to reduce musculoskeletal injuries on farms.
As commodity events continue, CalAg was represented at the Capay Tomato Festival, the Winters Ag Tour, and the Courtland Pear Fest, where farm families and locals from urban areas gather to learn about food and farming and to view displays. more
CalAg has been successful in working with a prosthetist in the Central Valley in assisting a consumer from North Central California to obtain a prosthesis. more
With more and more consumers with low vision and limited means to obtain exams and treatment, CalAg continues collaborations with One Sight through LensCrafters in various areas in California. more
CalAg with the Hear! Here! Chapter of the Hearing Loss Association have completed the bilingual injury prevention 4-fold brochure, which is being disseminated throughout the state. more
Indiana
Amber Wolfe provided AgrAbility and arthritis education materials to six Indiana county fairs throughout the month of July.
Indiana AgrAbility coordinator Linda Tarr attended several county fairs in southern Indiana. She also partnered with Southern Indiana Center for Independent Living and Hoosier Uplands Area 15 Agency on Aging on senior day at the fairs in Washington, Orange, and Lawrence Counties.
Linda Tarr conducted AgrAbility training for the southwest regional NRCS offices, Goodwill Southern Indiana managers, and St. Vincent Hospital-Salem physicians.
Mid-Atlantic AgrAbility conducted VR staff training in New Jersey and Maryland.
Mid-Atlantic is also collaborating with Delaware Technical and Community College's OT department to support a summer intern and provide an opportunity for clinical fieldwork in the fall.
Southeastern Equipment Dealers Association sent an e-blast to members in Delaware and Maryland promoting the MAAP project.
Mid-Atlantic AgrAbility continues to support several organizations designing and promoting accessible gardening.
Mid-Atlantic AgrAbility staff have Partnership Tours in Maryland and New Jersey and a Partnership Workshop scheduled during the month of August.
Maine
Maine AgrAbility hosted three workshops on Arthritis & Agriculture with Amber Wolfe. more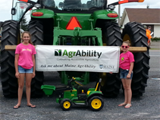 Maine AgrAbility has been working hard to support the creation of the Maine Farmer Veteran Coalition. more
Maine AgrAbility had a presence at the Potato Blossom Festival in Fort Fairfield on July 20. more
Missouri
July 9, Missouri staff participated in the AgrAbility Networking call with guest speaker Amanda Krenning, NY Farm Bureau. more
On- and off-campus University of Missouri AgrAbility staff participated in many regional AgrAbility activities. more
Pharm to Farm Project On-Site Farmstead Medication Assessments and Evaluations was successfully launched July 1. more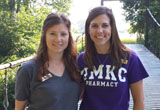 Dr. Cochran from the University of Missouri Kansas City School of Pharmacy on the MU campus also offered two upper pharmacy students a Rural Pharmacy Practice Elective APPE - PHAR with the AgrAbility Pharm to Farm Project. more
Karen Funkenbusch presented an AgrAbility Using the right tools for your small gardening needs program at the Native Plants and Sprouts and Roots Conference sponsored by Lincoln University Cooperative Extension. more
Nebraska
Mark Riley, PI for the Nebraska project, presented an overview of AgrAbility at the Agricultural Medicine: Occupational and Environmental Health Course for Rural Health Professionals course held in Omaha, July 9-12. more
Nebraska AgrAbility received a $2000 grant from Farm Credit Services of America through its Working Here Fund program. more
Ohio
Ohio AgrAbility was recognized with a Partnership in Health Promotion Award by the Northeastern Ohio Arthritis Foundation. more
The National Science Foundation provided the University of Dayton funding to support the Research Experience Through Teaching program to develop curriculum for University of Dayton engineering students. more
Crop King of Lodi, Ohio agreed to partner with the Ohio AgrAbility Project regarding the Dayton Veteran's Administration Hospital greenhouse project. more
Utah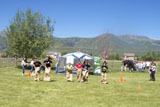 AgrAbility of Utah participated in a Day on the Farm 2013 on June 8 in Midway, UT. more
Utah's Disability Law Center featured AgrAbility in its Spring 2013 Newsletter; the article, titled The Scenic Route: Still Working the Land, focused on farming and ranching in Sevier County and how AgrAbility helps people continue a lifetime of farming.
West Virginia
Two of the leading causes of farm fatalities in West Virginia are improper use of farm machinery and firearms. WV AgrAbility staff Inetta Fluharty and Amanda Fulk will provide information on those topics at a booth during the WV State Fair from August 12-17.more
Staff Changes
National Project
Tess McKeel has joined the Goodwill of the Finger Lakes Workforce Development Team, replacing Dawn Miner, and will be participating in their role with the National AgrAbility Project.  In the coming weeks, as GWFL introduces Tess to her new position, they will be further defining her role and the projects she will be focused on.  Tess joins the project from the retail side of Goodwill, where she managed one of their retail locations and worked directly with many of the individuals they placed in employment or work experience programs to assist in preparing them for employment.  Because of her incredible passion for helping individuals overcome barriers and become successful, she should be a great fit with the AgrAbility Project.
You can contact Tess at tmckeel@abvi-goodwill.com or (585) 953-8430.
Colorado
Jill Sump left CO AgrAbility as project manager August 7. She and her husband have decided to move to KS to be closer to family for their five month old son. As sad as Jill is to leave the wonderful job she has held and wonderful people she has met the past five years in CO and through AgrAbility, she will be able to be a part of her family's farm again. Jill will also be working as an occupational therapist for the US Army in the Warrior Transition Battalion and hopes that this new job will be as rewarding and meaningful as AgrAbility has been. Jill's job with the CO AgrAbility Project was a dream come true type of job, and she would like to thank each of you for showing her the kindness and passion you have for serving farmers and ranchers. It has been a pleasure serving with all of you. Candy Leathers will be carrying on duties at CO AgrAbility, and has the skill set and desire to do a wonderful job.
Mid-Atlantic
James Scott joins the Mid-Atlantic project as an AgrAbility specialist supporting Easter Seals in conducting worksite assessments on the Delmarva Peninsula.
Nebraska
NE AgrAbility welcomes back a former project manager and says farewell to others. Angie Howell, who served as project manager for ESN in 2007-9, is returning to that position. With changes in staffing following the ESN merger with Visiting Nurses Association, Angie is replacing Mike Tufte, who will devote more time to the ESN Camping program.
We also say goodbye to Del Ficke, rural rehab specialist, who has been with the project since 2007. Del will be taking a position with Nebraska Farm Bureau in Membership Services. We wish him well in his new position, while acknowledging the gap he will leave.
AgrAbility in the News
Click here for news stories featuring AgrAbility projects.
Disabled Farmer Gets New Tractor
Pain And Gain
Sowing Seeds of Healing and Employment for Veterans
The Scenic Route -- Still Working the Land
'Uplifting' Aid from AgrAbility
Scotia Winery Opening Proof of Overcoming Adversity
Off-Road Wheelchairs On Display at Ag Expo
Free Health Screenings at Fair Friday, July 26
Other News
Click here for other news of interest to AgrAbility staff members.
Smithsonian Seeks Farmers' Stories for New Exhibition
Want a Job? Agriculture Industry Teeming With Them
Community Supported Agriculture: How Big Is Too Big?
US Soldiers Improve Afghan Farming Capabilities
Backyard Chickens Dumped at Shelters When Hipsters Can't Cope, Critics Say
Amending Soil in Organic Dairy Pastures
'Produce Police' Aim to Keep Farmers Markets Local
Upcoming Events
Click here for professional development events related to AgrAbility.
Problems? Contact Clifford Racz, National AgrAbility Project, racz@purdue.edu