February 2015
National AgrAbility Project News
Registration is open for the 2015 AgrAbility National Training Workshop!
Earlybird registration will be open until March 19. More
Remember to book your hotel reservations for the 2015 NTW at the Hyatt Regency Rochester before the room block closes on March 19. Reserve your room online at the special conference rate of $105 per night on the AgrAbility NTW reservation site or by phone at 585-546-1234.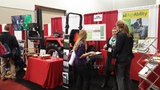 The National AgrAbility Project and Life Essentials staffed a booth at the 2015 APTA Combined Sections meeting in Indianapolis, IN, February 4-7. More
Amber Wolfe, Arthritis Foundation national partner, attended the National Farmers Union Women's Conference Jan. 17-21, at Clearwater Beach, FL. More
ARTHRITIS/AGRABILITY CONFERENCE PLANNING COMMITTEE MEMBERS NEEDED! More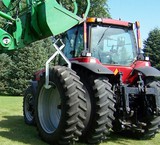 Toolbox Spotlight: The EZ Dual Changer is designed to make it possible for one person to change the dual tires safely on big machinery (e.g., tractor, combine) in a very short time. More
Click here for the schedule of upcoming Community of Interest and Standing Committee call information.
State and Regional AgrAbility Project News
California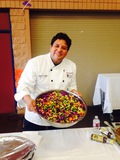 CalAgrAbility staff attended a promotores conference and health fair in the rural town of Woodland. Workshop topics included nutrition, migrant legal rights, mental health, and health insurance. Renown Chef Vargas, advocate for health and nutrition, catered the event. More
A wonderful fundraising campaign with the "United For Cause" Destination Imagination Team from San Ramon, CA, is taking place for a CalAg central valley farmer. More
CalAgrAbility continues to raise awareness about fog in PSAs. More
CalAgrAbility continues to collaborate with a UC Davis student-led organization on campus, Mujeres Ayudando a la Raza (MAR). More
CalAgrAbility Staff attended the Ergonomics Roundtable of Sacramento meeting with 75 engineers and ergonomists. More
CalAgrAbility partner, Ability Tools, featured the CalAgrAbility program in a webinar. More
CalAgrAbility Staff continue to participate in the arthritis COI and arthritis resource committee.
CalAgrAbility made calls to consumers regarding travel stipends to attend NTW and about the small farmers conference. CalAgrAbility keeps expanding its wings by continuing its teleconferences with more Farm Bureau executive directors from Yuba Sutter County, Butte County, and the Davis Media Access.
CalAgrA continues to Tweet. Follow us at https://twitter.com/calagrability.
Colorado
Colorado AgrAbility has begun a planned outreach to its veteran population that includes email contact with all 64 county veteran service officers. More
The National Western Stock Show has just finished, and Colorado AgrAbility attended, passing out brochures.
Colorado AgrAbility was also in attendance at the Colorado Farm Show meeting, where staff members talked with present clients and other farmers with disabilities.
Colorado AgrAbility plans to have completed its Winter Workshops throughout its beautiful state prior to February 15, 2015.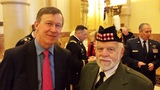 Jim Craig attended Military Day at the state legislature. More

Indiana
Indiana AgrAbility staff and volunteers exhibited at the 2015 Fort Wayne Farm Show, which boasts that it is one of the largest indoor farm shows with an attendance of over 38,000 in three days. More
Steve Swain, the Indiana AgrAbility rural rehabilitation specialist, staffed a display at the 2015 Indiana Horticulture Congress in Indianapolis. The three-day conference was attended by over 800 farmers, professionals, and exhibitors representing produce growers, fruit growers, wine makers, and agritourism sites.
Amber Wolfe assisted new Indiana AgrAbility Project stakeholder Proteus with identifying over 20 connections for farms and organizations with migrant and seasonal farmworkers in southeastern Indiana.
Amber Wolfe is assisting Indiana AgrAbility Project stakeholder Rehabilitation Hospital of Indiana with the creation of educational display signs for their therapy garden.
Carl Jenkins attended the Spencer County Soil & Water meeting in Christney, IN, in January.
Linda Tarr had a booth at the Indiana Association for Soil and Water Conservation Districts conference in Indianapolis. She also did a presentation for the Monroe County Beef Cattle Association and had a booth at the Southern Region Soil Health Workshop for five southern Indiana counties.
Maine
Maine AgrAbility staff spent three days at the 2015 Agricultural Trades Show in Augusta with over 5,000 visitors to the event. More
Staff also had a display booth at the Maine Landscape and Nursery Association and the Maine Arborist Association annual meetings and trade shows. With over 275 agricultural workers in attendance, it was an interesting day talking about simple ways to adapt tools and create modifications to make work easier.
Michigan
Michigan AgrAbility was on TV! More
Missouri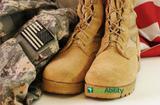 In partnership, AgrAbility staff members from the UM Extension, Lincoln University Cooperative Extension, and Brain Injury Association of Missouri facilitated a number of USDA NIFA priority activities dealing with arthritis, farmstead assessments, education, vocational rehabilitation, NTW posters, and veteran workshops. More
Kelly Cochran at the UMKC School of Pharmacy at MU promoted AgrAbility at an internal medicine clinic, helped with MO AgrAbility's plan of work, and submitted a proposal for an NTW poster. More
North Carolina
Project Coordinator Michele Proctor presented "Intro to NC AgrAbility" at the Future Farming Forum on January 20, 2015, in the James Sprunt Community College Monk Auditorium in Kenansville, NC. More
"Intro to NC AgrAbility" was presented by Michele Proctor at "Bridging the Informational Resources Gap: Connecting Farmers and Veterans to USDA Programs," January 21-22, 2015, in Rocky Mount, NC. More
The 2015 NC Agricultural Medicine Core Course kicked off January 29-30, 2015, in Kannapolis, NC. More
Nebraska
Nebraska AgrAbility is celebrating 20 years in 2015. More
Nebraska AgrAbility received a $1000 Farm Credit Services of America Community Grant to encourage an AgrAbility client to attend the NTW. More
Rod Peterson presented a session on AgrAbility and AT at the Century 21 Midlands Realty meeting in Kearney this month. The company is a contributor to Easter Seals Nebraska programs, and its realtors have worked with several AgrAbility clients.
Ohio
It is 2015 and Ohio AgrAbility has caught up with the rest of the world and established its own Facebook page. More
In January, the Ohio AgrAbility Project (OAP) held an initial meeting with multiple partner groups. The goal of this event was to discuss working with veterans with disabilities that are going to the VA and to introduce and instruct them in farming. More
In January, Sodexo partnered with the National Easter Seals Organization to provide mini grants for disabled farmers. More
Utah
AgrAbility of Utah participated in the Utah Farm and Ranch Expo, January 23-24, at the Weber County Fairgrounds in Ogden, Utah. Farmers and ranchers from northern Utah visited the AgrAbility display that was part of the trade show. The event also included an antique tractor show.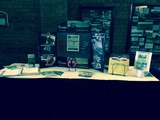 Darlene Carlisle represented AgrAbility of Utah at the 2015 Utah Hay & Forage Symposium, January 29-30, in St. George, Utah. The exhibit included an AgrAbility tabletop display and outreach materials.
Wisconsin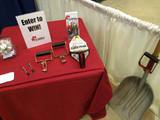 AgrAbility of Wisconsin has had a great start to the new year! Staff attended the Midwest Farm Show January 14-15. More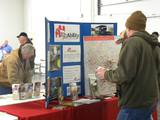 WI AgrAbility staff attended the Rock County Ag Open House. This was a great networking event, as well as another opportunity to display AgrAbility's booth.
Wisconsin AgrAbility recently had new brochures printed, and they have been effective in communicating what AgrAbility of Wisconsin does.
Outreach Specialist, Hannah Gerbitz, has begun training in the Wisconsin Farm Bureau Leadership Institute, where she hopes to enhance her speaking and professional skills in an effort to better represent AgrAbility of Wisconsin.
AgrAbility of Wisconsin publishes quarterly newsletters, with two of them strictly electronic. If you'd like to receive the electronic "Plowing Ahead", sign up here: http://eepurl.com/baOkk9
West Virginia
West Virginia AgrAbility sponsored a display on January 20th at the WV State Capital for WV Department of Agriculture Day at the Legislature.
January 21, WV AgrAbility sponsored a display at the WV State Capital for Disability Day at the Legislature. More
Staff Changes
Missouri
We are excited to report that Joseph Brajdich recently completed his health sciences internship with the Missouri AgrAbility Program and recently accepted a paid position to facilitate AgrAbility onsite farmstead assessments.
Nebraska
Please welcome Emily Freudenburg as the new rural rehabilitation specialist. Emily lives in Madison, NE, just outside of Norfolk. She currently works for a disability organization in Norfolk and has collegiate experience in rehabilitation studies and occupational therapy. She grew up on a farm in Madison County and was involved in 4-H, FFA, and other rural community activities. She has prior clinical experience serving in orthopedics and sports medicine, equestrian therapy, and in a skilled nursing facility (dementia/Alzheimer's and COPD/pulmonology units). She has also completed multiple work assignments/rounds in a small rural hospital in Iowa. Emily has "hit the ground running," learning about AgrAbility and seeing clients for initial and follow-up visits. Contact Emily at efreudenburg@ne.easterseals.com
Pennsylvania
Erica Bobbitt is no longer with the AgrAbility for Pennsylvanians project. She resigned to accept a position with Texas A & M University. We wish Erica much success at her new job. Any business email to Erica should be sent to Connie Baggett at bbc@psu.edu because Erica's email has been deleted. Please remove her from your contact list. We are in the process of advertising the position and hope to have someone in place within the next three weeks.
Also, our non-profit partner, Pennsylvania Assistive Technology Foundation, has chosen to go in a different direction because of time commitments as of November 30, 2014. Consequently, individuals associated with PATF should be removed from your contact list. We are contracting with another nonprofit that we will share with you once a subcontract is signed.
Wisconsin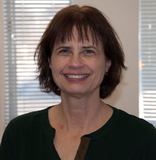 The Easter Seals Wisconsin FARM Program welcomes Monette Bebow-Reinhard, the new administrative program assistant. Monette has a background in writing and editing and is a published author with a masters in history.
Manuel Lugo, friend of AgrAbility and retired DVR counselor, passed away at the age of 67 on January 27th. Throughout Manuel's career in DVR he was a pioneer in technology and innovation. More
AgrAbility in the News
Click here for news stories featuring AgrAbility projects.
Peterson earns AgriLife Extension Superior Service Award for diversity
A war veteran becomes an aspiring farmer, illustrates a national trend
AgrAbility of Wisconsin
AgrAbility Plaza (video)
AgrAbility program helps Georgia farmer in need
CSU professors help disabled farmers and ranchers
NFMC, AgrAbility of Wisconsin to Hold Summit in March
AgrAbility program from MU helps farmers after injury
ASABE California-Nevada Section Annual Meeting Announcement
NFMC, AgrAbility of Wisconsin to Hold Summit in March
AgrAbility 2015
AgrAbility Webinars
Missouri AgrAbility funded for four more years
AgrAbility Virtual National Training Workshop
As family farms fall, program lifts older, disabled farmers, ranchers
Other News
Click here for other news of interest to AgrAbility staff members.
Veterans Farm sponsors free Beginning Farmer/Rancher Development Workshop
Is farm business planning part of your New Year's Resolutions?
Women's Work Is Never Done On The Farm, And Sometimes Never Counted
Top mobile apps for agriculture
Upcoming Events
Click here for professional development events related to AgrAbility
.
Problems? Contact Clifford Racz, National AgrAbility Project, racz@purdue.edu